A young Donegal father has told how he held his baby daughter for just two hours before he had to say goodbye to her forever.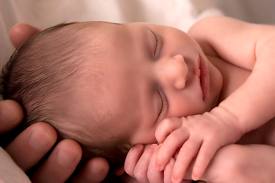 Baby Lucy Bell was born with a rare condition, Nager Syndrome, which affected the development of her face, limbs and airway.
Her doting dad Eoghan, 21, from Culdaff, said himself and his girlfriend had been prepared for Lucy's short stay with them.
"We knew for five or six months into the pregnancy that there were problems.
"We knew she wasn't going to survive for long – the doctors had prepared us," said Eoghan.
Sadly Eoghan and his girlfriend split up shortly afterwards with both putting their ordeal as one of the reason's for the separation.
Eoghan told The Star he was glad that he was able to have held Lucy – even if it was only for a short time.
Now Eoghan's mum Eilish Bell, 46, is in the middle of helping to raise money for a children's charity.
Eilish finishes her four marathon in as many days tomorrow for the Stillborn and Neonatal Death group.