EXCLUSIVE: Letterkenny Chamber has contacted the County Board to officially request the Donegal GAA team return to their town after the All-Ireland Final at Croke Park.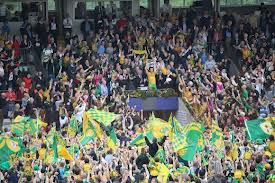 The team has always traditionally returned to The Diamond in Donegal Town after any major victory including this season's Ulster Final success.
But in a strongly-worded letter, the Chamber said they felt it was now time for a Donegal team to have a welcome home reception in Letterkenny.
The move is certainly due to meet with resistance from clubs and business interests from south Donegal.
When contacted by Donegal Daily, Letterkenny Chamber President John Watson admitted businesses had been lobbied on the issue.
He said "We feel the time is right now that Letterkenny could be the place for the team to return to.
"We will welcome the team back with or without the Sam Maguire after the final and it won't cost the County Board a cent.
"For years the team has retuned to Donegal Town and we feel it's time that Letterkenny got a turn.
"We are the biggest town in the county and a number of businesses from the area have sponsored the team in recent years.
"We feel it would be a nice touch if the homecoming could be shared around and we would like to do it after the All Ireland final," he said.
It is understood the County Board will discuss the matter tonight and give the Letterkenny Chamber an answer to their request.
Mr Watson said the town had a number of locations it could accommodate a large crowd in including O'Donnell Park, the Tesco Car Park, the Town Park or Oliver Plunkett Road.
It is expected to get support from people in Inishowen and the north of the county – where fans often complain that it can take up to two hours to get to Donegal Town.
Tags: