A Donegal nun has made the ultimate sacrifice by giving away TWO All-Ireland final tickets which she won in a draw.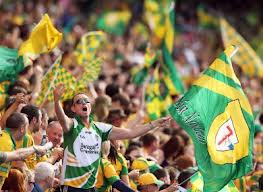 With tickets like gold dust across the county, two fans are thanking divine intervention for their seats at Croke Park.
With just under 15,000 tickets available in the county for the showpiece game against Mayo, excitement is at fever pitch as people scramble to get to the match.
Tyrone Gaelic football club Eglish St Patrick's got its hands on a coveted pair of tickets to be raffled off to raise much needed funds.
And many of the €5 tickets were understandably sold across Donegal.
The draw was held on Wednesday night and the lucky winner pulled out of the hat was Sister Magdalene from the Convent of Mercy in Donegal Town.
However, she will not be making the journey to Dublin because she has generously donated her tickets to two super-fans.
"I was very surprised indeed but very glad that I was able to help my two good neighbours by giving them the two tickets," she says.
"One of them has a son coming back from America and she was very anxious for him to see the game, the other hasn't missed a final in years, so she was so delighted."
Sister Magdalene is currently on pilgrimage in Medjugorje.
While Sister Magdalene may come from Mayo's neighbours Galway, she says: "I hope Donegal do the business."
"I think it's great when people who are the true fans can get to enjoy the match," she added.
Kieran Hagan of Eglish GAC says they were delighted that the winner came from Donegal.
"We rang through to the telephone number on the ticket, and she was on speakerphone so we heard the whole thing in the convent," he says.
"The excitement in her voice when she won the ticket was unreal."
While Mr Hagan will have to be content with watching the final on television, he says the raffle was worth it as they raised more than £3,000 for the club.
Tags: