A leading Garda has said a house in Letterkenny in which €210,000 of drugs was found was a 'chopping shop' for the Northern market.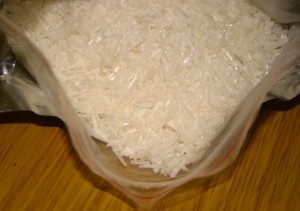 The drugs, 4 MEC or synthetic cocaine were posted to the house in Letterkenny from China.
A surveillance operation by Gardai resulted in the seizure of €140,000 of the drugs on Monday.
A further €70,000 worth of the drugs was found in the same house during Garda searches  yesterday
A 28 year old man from Portstewart has been charged with possession of the drugs and will appear at Letterkenny District Court next Monday.
Garda Superintendent Vincent O'Brien said he is satisfied the 6 kgs of drugs were destined for the Northern Ireland market.
He said a premises in Letterkenny was being used to cut up, bag and then distribute the drugs.
"This is a major international officers involving customs and excise officers from Germany and Ireland and our national and divisional drugs unit.
"I am quite satisfied that a major international drugs operation has been smashed.
"We have particular intelligence that these drugs were being used for the Northern Ireland market," he said.
Tags: