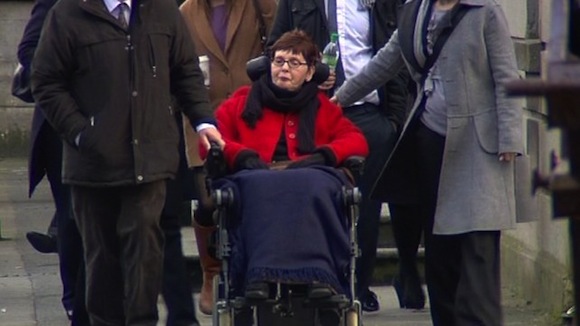 THE debate on euthanasia in Ireland is set to intensify after a Co Donegal woman who suffers from Multiple Sclerosis today began a legal case to allow her husband to assist her in taking her own life
Marie Fleming, 58, a former lecturer at UCD, wants the option to end her own life and believes her partner Tom Curran should be allowed to help her.
Ms Fleming, who now lives in Wicklow but is originally from Letterkenny, gave evidence to a specially-convened three-judge High Court today.Ms Fleming was diagnosed with MS in the 1980s and is in the final stages of the condition. She told the court she had come to ask for help to die while she still had her voice.
Ms Fleming said she had spoken to her children and they are "supportive".
She said: "A lot of tears were shed and a lot of questions asked, but they see me and know how my life has deteriorated to such an extent that I can't help myself with even just minor things like showering."
Her partner Tom Curran is willing to help her die if it is lawful, she told the court.
She said her children could be prosecuted for being in the room with her when it happens and she did not want to "leave that legacy".
She described her daily life and said she has seven different carers.
"When you have to be showered, toileted and fed you start to feel like a nobody," she said.
GAS MASK 
She said she had talked non-stop about how she would end her life and had decided the only way for her would be to use gas through a face mask.Ms Fleming could activate the gas by moving her head to initiate the flow or by blowing into a tube.
She would have no objection to an independent observer being present if the court requested, she said, adding: "We have nothing to hide."
Ms Fleming said she was now at peace with the world and had planned her funeral. She wanted jazz music to be played and for it to be a celebration.
"I want to go peacefully in my own home, with the people I love around me," she said.
President of the High Court, Mr Justice Nicholas Kearns, Mr Justice Paul Carney and Mr Justice Gerard Hogan moved from the bench to be closer to the witness for her evidence, which lasted just under half an hour.
Lawyers for the State did not cross-examine her.
Ms Fleming is challenging a section of the Criminal Law Suicide Act, which makes it an offence to help someone take their own life.
Her lawyers earlier told the court they will argue that the section of the act is contrary to the provisions of the Constitution and incompatible with the European Convention on Human Rights.
Tags: