The Can't Pay Won't Pay lobby group has demanded Sinn Fein publicly call on homeowners to boycott the Property Tax, following the announcement that the party is to hold a series of public meetings against 'Home Taxes'.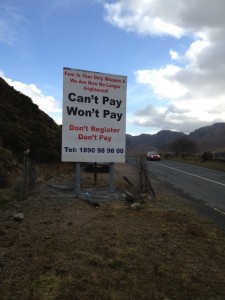 "The overwhelming majority of Sinn Fein supporters that we talk to, back our campaign and support the call not to pay" said spokesperson Micheál Cholm Mac Giolla Easbuig,
"Indeed some of our best activists are members of Sinn Fein but unfortunately the leadership of the party and it's public representatives stopped short of calling on people not to pay the Household Charge.
"Pearse Doherty is on record several times in stressing that, while he would not pay the charge himself, he was not calling on other people not to pay.
"The question we are now posing is: with the announcement of these public meetings, are Sinn Fein public representatives now prepared to stand alongside us and publicly call for a boycott of the Property Tax?"
The Can't Pay Won't Pay group say that if Sinn Fein were prepared to do that it would give an enormous boost to the campaign.
They add that many people who would like to join the boycott but are fearful of the consequences would gain the confidence not to pay as they had the outright support of half of all Donegal TD's.
"They could deal a body blow to the Property Tax in Donegal which would be noticed across the state as it is already ackowledged that our county leads the way in terms of non-compliance the Household Tax and Septic Tank registration."
"We ask members and supporters of Sinn Fein to use whatever influence they have within the party and at these public meetings to get their party to change it's stance and to finally back the boycott."
Can't Pay Won't Pay are holding a major demonstration against the Property Tax and the Budget in Letterkenny tomorrow.
They will assemble at the Station Roundabout at 2pm and march to the Market Square where a number of speakers will address the crowd.
Tags: