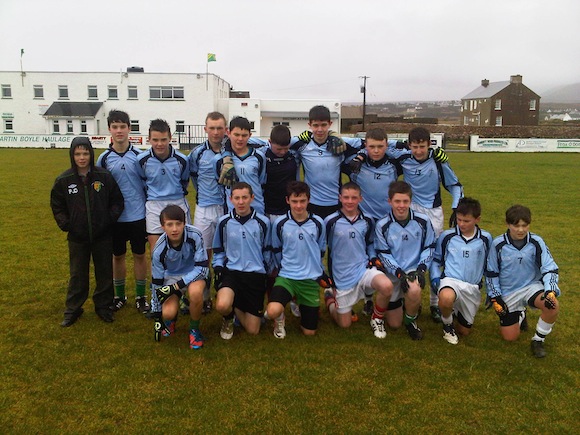 On a day not suited to skillfull football PCC Falcaragh and Glenties Comprehensive fought out a wonderful contest at Gaoth Dobhair with PCC storming into the final where they will meet Abbey Donegal Town or St Columba's Stranolar in the Donegal Schools U 14 Galic Footballer decider.
Early matters were even until Glenties pulled into a 1.3 -0.3 lead until PCC driven in midfield by Dylan Doherty scoring a great last kick of the half 45 to leave PCC trailing by 1 at half time 1.3 – 0.5
Whatever PCC manager Mr Brian Dermot said to his team during half time worked wonders as from the throw in PCC pushed forward with every possession, Glenties were getting overpowered in the second half where they had dominated in the first. And with Daniel Devine fielding great in midfield PCC made the move of the match. From the half back the ever running captain Ciaran McFadden ran onto a breaking ball and with speed and determination broke through the Glenties defence to lay the ball off to Kyran Glennon to slot the ball into the net.
Within 2 minutes PCC were at it again Noel Sweeney combining with Lee mc Colgan and the sweet left foot rattled the Glenties net again. Leaving the scores 1.5 – 2.8
PCC controlled the final 10min where to there credit the Glenties team pushed on looking for the vital score, a goal came but to late as PCC never took there foot off the pedal with Jamie Mac Aoidh supplying Glennon to tap over the final score giving PCC a 2.9 – 2.6 victory.
PCC will be happy to get to upcoming final where Ciaran McFadden will lead them out but for today both teams and officials deserve applause for containing the elements.
Tags: