A woman drove almost 20 metres with a customs officer clinging to the bonnet of her car with her child in the back after failing to stop at a checkpoint.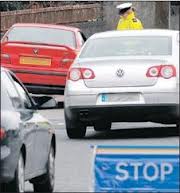 Caroline Duggan overtook a school bus and several cars on a continuous white line while trying to avoid an initial checkpoint.
But the mother-of-three was then waved down by another customs officer while driving her illegally-registered BMW in October 2011.
Duggan, 33, of Hawthorn Hill in Manorcunningham, then drove at speed at the checkpoint to try and avoid it.
One of the officers was pushed onto the bonnet and Mrs Duggan roared at him to "get the f*** off my car."
The officer was uninjured and Mrs Duggan refused to get out of the Northern-Ireland registered 5 series BMW car.
Mrs Duggan appeared for sentencing at Letterkenny District Court after being found guilty of motoring offences.
The court heard that Ms Duggan had been stopped just days before the incident at another customs checkpoint and had given her name as Caroline Martin and a different address.
Judge Paul Kelly had told an earlier sitting of Letterkenny District Court he could think of few things more dangerous than someone driving at speed at another person.
"There is little more frightening than being approached by a car at any 
speed, not to mention having a three year old in it.
"She knew what she was doing as she had been stopped two days earlier. It was entirely brought about by her own behaviour," he said.
He then sent Ms Duggan on a four week driving course and adjourned the case until yesterday.
Ms Duggan had since sold the car to raise the €1,000 penalty after the car was seized.
At yesterday's sitting solicitor Kieran Dillon pleaded with Judge Paul Kelly to be lenient with his client.
"She deeply regrets what she allowed herself to do on the day in question," said the solicitor.
Judge Kelly responded: "This was entirely self-inflicted. It is widely know, particularly in this part of the country, it you are not permitted to drive a UK-registered vehicle and that's what has given rise to this incident. Thankfully the Customs officer involved was not injured."
Fining her €350 for careless driving Judge Paul Kelly said: "This is the most extraordinary case. She has hopefully learned from this experience and she had better implement everything she has learned on this court or she will be put off the road."
Tags: