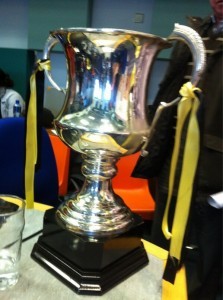 The draws for the GAA Donegal Football Championships have been made:
Senior Championship Draw:
Group A: St. Eunan's, Malin, Naomh Conaill, Cloughaneely
Group B: Ardara, Four Masters, Sean MacCumhaills, Glenfin
Group C: Gaoth Dobhair, Killybegs, Termon, Dungloe
Group D: Bundoran, St. Michael's, Kilcar, Glenswilly
Junior B: Preliminary: N Ultan v R Emmets; St. Eunan's v Glenswilly. 1st rd: N Columba v Burt; Na Rossa v Glenfin; Muff v N Conaill; Red Hugh's v St. Eunans/Glenswilly; Urris v Moville; Let Gaels v Milford; Convoy v MacCumhaills; Ardara v N Ultan/R Emmets
Junior A: Preliminary: Convoy v Red Hugh's; Urris v Burt; Milford v N Ultan; Muff v R Emmets. Q finals: Pettigo v Convoy/Red Hughs; Muff/R Emmets v Milford/N Ultan; Urris/Burt v Let Gaels; Na Rossa v Moville
Intermediate c'ship: Preliminary: N Columba v N Colmcille; Carndonagh v F Gaels; N Muire v Downings; Q finals: Aodh Ruadh v N Muire/Downings; Lifford v St. Naul's; N Brid v N Columba/N Colmcille; Buncrana v Carn/F Gaels
U-21A: cship Preliminary: F Masters v Ardara; 1st round: Malin v F Masters/Ardara; Kilcar v St. Michael; MacCumhaills v Convoy; Bundoran v Glenswilly; N Eoin v N Muire; Dungloe v N Conaill; Gaoth Dobhair v Letterkenny G; St. Eunan's v Cloughaneely.
Craobh Idirmheánach
Réamhbhabhta
Naomh Columba v Naomh Colmcille
Carn Domhnach v Gaeil Fhánada
Naomh Muire v Na Dúnaibh
Babhta Ceathrú Ceannais
Aodh Rua B/S v Naomh Muire/Na Dúnaibh
Naomh Pádraig Leifear v Naomh Náille
Naomh Bríd v Naomh Columba/Naomh Colmcille
Bun Crannacha v Carn Domhnach/Gaeil Fhánada
Craobh Shóisear A
Réamhbhabhta
Conmhaigh v Aodh Rua K/G
Iorras v Beart
Baile na nGallóglach v Naomh Ultan
Naomh Pádraig(Muff) v Roibeard Eimid
Cluiche Ceathrú Ceannais
Paiteagá v Conmhaigh/Aodh Rua K/G
Naomh Pádraig(Muff) /Roibeard Eimid v Baile na nGallóglach/ Naomh Ultan
Iorras /Beart v Gaeil Leitir Ceanainn
Na Rossa v Bun an Phobail
Craobh Shóisear B
Réamhbhabhta
Naomh Ultan v Roibeard Eimid
Naomh Adhamhnáin v Gleann Súilí
Chéad Bhabhta
Naomh Columba v Beart
Na Rossa v Gleann Fhinne
Naomh Pádraig (Muff) v Naomh Conaill
Aodh Rua K/G v Naomh Adhamhnáin / Gleann Súilí
Iorras v Bun an Phobail
Gaeil Leitir Ceanainn v Baile na nGallóglach
Conbhuí v Seán Mac Cumhaill
Ard an Ratha v Naomh Ultan / Roibeard Eimid
Craobh Faoi 21 A
Réamhbhabhta
Na Ceithre Máistirí v Ard an Ratha
An Chéad Bhabhta
Málainn v Na Ceithre Máistirí /Ard an Ratha
Cill Chartha v Naomh Mícheál
Seán Mac Cumhaill v Conbhuí
Naomh Conaill v Gleann Súilí
Naomh Eoin v Naomh Muire
An Clochán Liath v Naomh Conaill
Gaoth Dobhair v Gaeil Leitir Ceanainn
Naomh Adhamhnáin v Cloich Cheann Fhaola
Craobh Faoi 21 B
Réamhbhabhta
Gaeil Fhánada v Na Dúnaibh
Chéad Bhabhta
Carn Domhnach v Aodh Rua B/S
An Tearmann v Naomh Colmcille
Aodh Rua K/G v Naomh Náille
Bun an Phobail v Naomh Columba
Bun Crannacha v Naomh Pádraig (Leifear)
Naomh Bríd v Beart
Iorras v Roibeard Eimid
Gleann Fhinne v Gaeil Fhánada /Na Dúnaibh