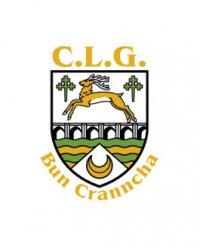 Buncrana GAA Notes For Week Ending Sunday 24th February
Congratulations: The club would like to congratulate William McLaughlin on his performance in the National Championships on Friday night. Although William will be disappointed, he did the entire parish proud with his performances throughout and especially in the final against Andy Nolan.
Poker Tournament: Buncrana GAA held a Poker Evening on Friday 22nd in the Scarvey Clubhouse. An enjoyable night was had by all, especially Breda Friel Quirk who was the tournament winner. Congratulations to all who won prizes and thanks to everyone who attended and supported the event.
Boxing Night: Don't miss the 'Clash Of The Clubs' on Saturday 9th March – For one night only Buncrana GAA and the Illies will be clashing in the ring to raise funds for both clubs. The boxers are training extremely hard in preparation for this event and some great fights are expected. Much is expected of Shane 'Yank' McDaid, who has already enlisted Irish Olympic Coach Billy Walsh for one-to-one sessions, and has arranged sparring sessions with Kenny Egan following their secret meeting at the National Championships on Friday night. Tickets are priced €20 and are available from club members. Fights begin at 8:30pm with Disco to follow.
Membership: Club membership for the upcoming year can now be paid. Adult membership is €100 (including weekly lotto entry), Student membership is €50 and child membership is €20 (€50 for 3 children or more). Dates of registration nights for juvenile members will be confirmed soon, and all information will be made available through facebook, twitter and the club notes. For further details please contact Grainne Soal at secretary.buncrana.donegal@gaa.ie.
Senior and Reserve Football: Buncrana recorded a convincing win over Glack O'Connor's in the Ulster Intermediate League on Sunday. The opening half was a scrappy affair, with the home side dropping players into defence and Buncrana giving away possession with misjudged long passes. This was reflected in the halftime scoreline, 0-1 to 0-3. However, in the second half Buncrana began to dominate and make better use of possession. Goals by Simon Cuffe and a second by Paul McGonigle, who started a sharp five pass move on the half-way line before hitting the back of the net, ensured that Buncrana ran out comfortable winners. Final score Glack 0-3 Buncrana 2-9. Training will continue each Tuesday and Friday at 7.30pm and on Sundays at 11.00am. All new and returning players who are over the age of 16 and wish to play in Division 2 this year are invited to attend.
Girls Football: Girls football training is on Monday night at 7.00pm sharp. Open to all girls from the ages of 9 to 16 years of age. New players are also welcome. Please bring your own water bottle.
U5 and U6 Gaelic Games: Under 5s and 6s sessions continues on Saturday mornings at 11.15am sharp in Crana College. The sessions are based on GAA Fundamentals; a Croke Park initiative based on European wide research aimed at bettering your child's coordination (including hand eye) balance, agility and basic fitness in a fun filled environment.
U8 Hurling: U8 Hurling will continue on Wednesday 16th January at 5.30-6.30pm in Crana College. Newcomers are always welcome to come along and learn the basic skills of Hurling in a fun, safe environment.
U8 Football: U8 Football will continue on Friday at 6.30pm, new members are always welcome.
U9 Football: U9 Football (for children born in 2004) is on every Thursday in Crana College from 7pm-8pm. New players are always welcome.
U12 Football: U12 training started back on Tuesday 12th of February at 7.00pm. The training times are as follows: Tuesday 7.00-8.00pm and Friday 7.00-8.30pm. Mouthguards are now compulsory for all training as well as matches. Newcomers are always welcome to come along and learn the basic skills of Gaelic football in a fun, safe environment.
U14 Football: Buncrana U14 Footballers got their season off to a winning start with a hard fought challenge game against a strong Four Masters team last Sunday. It was a great all-round team performance. Training continues Tuesday at 5:30pm and Thursday at 6:30pm, new players welcome.
Stewards: Anyone who is interested in stewarding matches in MacCumhaill Pairc is asked to email club secretary Grainne McCarron secretary.buncrana.donegal@gaa.ie.
Referees Courses: A Referees beginner course will be held in Jackson's Hotel Ballybofey on Saturday 23rd February at 10am. Referees refresher course for senior and underage, both hurling and football will be held in Jackson's Hotel Ballybofey on Thursday 7th March at 7-30pm. All clubs are asked to be represented at both of these courses, for further details please contact Referees Administrator Pat Walsh on 0879142748 / 0749842514.
Lotto: The winning numbers in the lotto draw, which took place on Tuesday 19th February in O'Flaherty's Bar on the Main Street, are as follows: 3-5-10-22
There was no jackpot winner this week, however prizes of €20 go to each of the following participants:
Patrick McClay 52 Elm Park
Amy Staunton, Fahan
Adrian McMyler, Grainan Park
Galbraith Family, Millfield
Siobhan/Patrick Kearney, Ballymagan
Club Notes: Anyone who would like to receive a copy of the weekly club notes should email Oisín at buncrana.pro@gmail.com to be included on the mailing list. If you have any items which you think should be included in the club's weekly notes, please email Oisín at buncrana.pro@gmail.com by 6pm on each Sunday for consideration. To keep up to date with all the latest goings-on, please join us on www.facebook.com/buncranagaa or www.twitter.com/buncranagaa @buncranagaa
Tags: