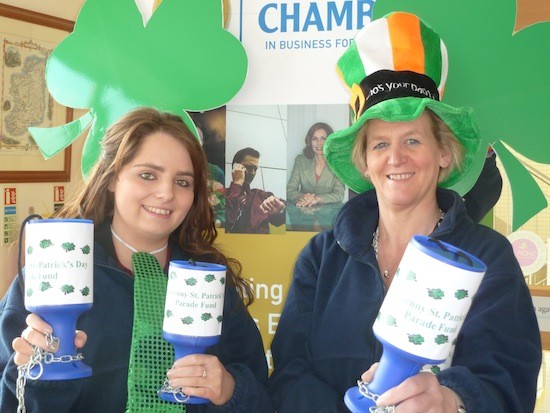 Letterkenny Chamber are delighted to launch the annual St. Patrick's Day Parade for the town.
The parade is one of the biggest in the county and this year it is getting entries already from a wide range of businesses, community organisations and bands.
This year Letterkenny Chamber are making two appeals to the general public, firstly for fund raising and secondly for volunteers to steward the parade on the day.
Speaking as the Chamber starts to distribute collection boxes, Chamber President John Watson said Letterkenny's St. Patrick's Day Parade is a great family event in Letterkenny and it grows year on year.
"This year the parade falls on a Sunday and we can guarantee large crowds lining the streets and lots of visitors here for the weekend. The Chamber is the sole organiser of the Parade and we raise money through contributions from large and small businesses as well as bag packing and a bucket collection on the day.
"This year we have added collection boxes in shops and other business in town and we hope all this goes together to cover the cost of the parade. If you see a collection tin why not help us out with a small contribution, it all adds up."
The well-known businessman also appealed for help for stewarding the event.
"This year we are also appealing for volunteer stewards. The St.Patrick's day parade takes approximately one and a half hours to complete its route and in order to keep spectators and entrants safe we need a large number of stewards to cover the whole parade. We need people who could spare a few hours to act as stewards to ensure the parade moves steadily and that all spectators are safe. It can be good fun so if you feel you could help and can spare a few hours we would be delighted to hear from you.
"The Letterkenny St.Patrick's Day Parade has been growing year on year and we want to keep it as safe as possible for all involved so extra volunteer stewards would be a great help to us all in the organising committee. This is very much a community event with community groups, individuals and businesses taking part so if you can play your part we would welcome you with open arms".
The Parade, that starts at 3pm on Sunday 17th March, will include the usual mix of dancers, cars, music and colour and will be preceded by entertainment on the viewing platform at Market Square.
On the day the independent judges view the parade with various categories in mind including community, sports, youth, band and dance.
Each category winner receives a plaque and the overall winning entry receives the Danny Doherty Perpetual Plaque plus a cheque for €500.
The parade starts at 3pm making its way from Pearse Road via Port Road, through Main Street past the viewing platform at Market Square to finish in Old Town.
All types of businesses and groups can enter the parade, entries must be of entertainment value and participants must hold their own public liability and/or employers liability insurance.
To volunteer as a steward, to enter a float or just for more information contact Letterkenny Chamber on 074 9124866 or email anne@letterkennychamber.com.
Tags: