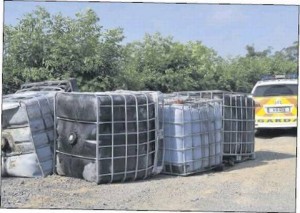 DONEGAL County Council has been left with a €30,000 bill after diesel-laundering criminals dumped thousands of litres of sludge at the side of a Co Donegal road.
Superintendent Leo McGinn confirmed Gardaí and Customs are investigating the gang which left an astonishing 33,000 litres of diesel sludge near a quarry at Ballintra.
The dumped substance is one of the biggest ever left in the State; and is six times the amount dumped in Louth in the past six months.
Donegal County Council will have to export the waste to Germany where toxic waste experts will dispose of it.
But it doesn't come cheap – at €1,000 for every 1,000 litres, according to Louth Council which has had to deal with years of criminal gangs dumping the sludge.
The waste is created when gangs remove dyes from agricultural diesel. The laundered fuel – now clear – then causes huge damage to cars which use it.
Supt. Leo McGinn said gardaí were notified last Saturday night that a trailer had been left near a quarry at Ballymagroarty, Ballintra.
"This causes a serious environmental problem for the authorities," said Supt McGinn.
He appealed for anyone with information on the gangs to contact officers in Ballyshannon Garda Station.
Forensics officers have examined the containers as part of the investigation, he said.
Gardaí in Ballyshannon are on 071 98 58530.
Tags: