The Regional Cultural Centre, Letterkenny will be the venue for launching an ambitious new anti-racism programme Show Racism the Red Card on March 14th.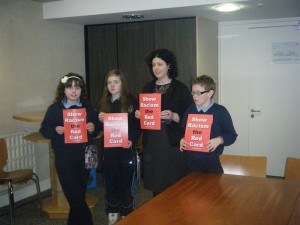 Many Donegal schools and youth services will be familiar with this programme because of work by Finn Harps FC in promoting the message of Show Racism the Red Card.
The launch will include the unveil of a new DVD education pack featuring Seamus Coleman and pupils from St Eunans National School in Raphoe.
This new education pack includes a DVD which is 18.41minutes long and features top stars of Irish sport including Donegal's Seamus Coleman alongside his international teammates Simon Cox, David Meyler, James Mc Carthy, David Meyler, Darren Randolph and Sean St Ledger.
Ireland women's U19 Rihanna Jarrett also features as do some of the stars from rugby and GAA including Gaelic Players Chief Executive Dessie Farrell and Wexford's Lee Chin.
The DVD is a lively feature including action footage from the stars of the different sports. Also featuring are children from St Eunans National School Raphoe.
The example of action taken by children at St Eunans National School is being highlighted as good practice for schools all over Ireland. In creating their mosaic of Show Racism the Red Card mascot Jeff the Ref, the children at St Eunans involved the endorsement of the great and the good from Donegal and beyond, who signed the cards which make up the mosaic.
The teachers and children at St Eunans have worked hard over recent years in support of Show Racism the Red Card.
The DVD will be accompanied by a 36 page pack, with lots of activities to support learning in the classroom. The pack will be translated into Irish to ensure usage in Gaelscoilleanna and Gaeltacht schools. The pack features activities which are downloadable and encourage interactive learning that young people can enjoy.
Tags: