The Letterkenny St.Patrick's day parade is one of the biggest in Donegal and this year RTE will filming the event for a special programme.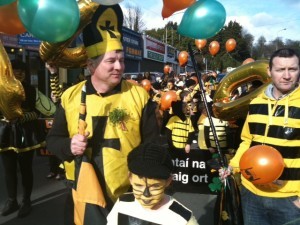 Letterkenny Chamber is asking everyone to proudly display their Irishness and showing the rest of Ireland how Letterkenny enjoys itself.
They are asking people to get your shamrock out and put on your best St.Patrick's day costume and join in the fun.
Chamber President John Watson said "Letterkenny St. Patrick's Day Parade is a great family event in Letterkenny and the staff and voluntary committee are working hard to ensure it is a success.
"This year the parade falls on a Sunday attracting lots of visitors who will be here for the weekend and I am sure we can give them a fantastic welcome. Contributions from large and small businesses are coming in and we will be having a bucket collection on the day, so if you're approached please drop in some loose change.
"Safety is our prime concern on the day and we join with the Gardai, Donegal Youth Service and others to keep this an alcohol free day".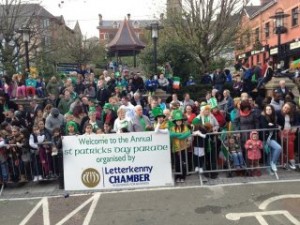 There will be music and Irish Dancing from the Ferry School of Irish Dancing from 2.15pm. The Parade led by the official colour party starts at 3pm on Sunday 17th March and includes the usual mix of dancers, cars, music and colour.
On the day the independent judges view the parade with various categories in mind including community, sports, youth, band and dance. Each category winner receives a plaque and the overall winning entry receives the Danny Doherty Perpetual Plaque plus a cheque for €500.
The parade starts at 3pm making its way from Station Roundabout via Port Road, through Main Street past the viewing platform at Market Square to finish in Old Town. The road is officially closed from 1.30pm although disabled parking is available at An Grianan Theatre. The results are announced from the viewing platform directly after the parade.
Entries line up along Pearse Road and are marshalled into the parade by stewards. The parade will be lead by the traditional colour party and the first band is the recently re-formed Letterkenny Senior Accordian Band. There will be motorised entries, floats, dancers and lots more.
Toni Forrester, Letterkenny Chamber before the parade said "Voluntary stewards, Gardai, and Civil Defence will line the route of the parade to ensure the safety of all participants and spectators.
"Their safety is our main concern. We ask participants and spectators to act responsibly and the Gardai have asked all publicans to ensure that there is no alcohol on the street. This is a real community event and we all work together to make sure it is a safe and enjoyable parade."
Tags: