LETTERKENNY GOLF CLUB LADIES REPORT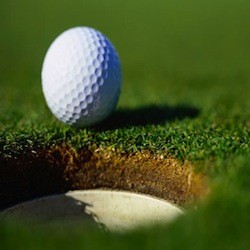 The Minor team of Bridie Gildea, Joan Murphy, Kay Kelly, Jackie Ireland and Peggy Forde played the home leg of their qualifier against North West on Good Friday. They won 2 ½ matches and are 8 holes down. The team go to North West on Sunday 7th April at 1.30pm and we wish them good luck.
The Easter weekend reentry competition, sponsored by Tommy Keys, was played over the four day holiday period, no results at time of going to press.
The April Medal took place on Tuesday last with the top eight ladies qualifying with the Lady Captain for the Donegal Shield to be played in North West on April 27th. Results will be in next week's press. This stroke competition was kindly sponsored by Lady members Anne Boyle, Mary Murray, Bridget McClafferty and Marian O'Sullivan.
The popular Ladies and Gents Classic, organised annually by the Ladies Club, takes place on Friday 26th April. It is sponsored again this year by Brian McCormick Sports, Noel O'Connell and Dermot Condon. Please reserve a space on the timesheet for your team of four, any combination. Teams cost €80.
Fixture cards are now available in the locker room. Please ensure that you read the Competition rules on Page 8 as there are some changes in regard to indices and the number of 18 hole competition cards needed to qualify for major competitions.
All outstanding prizes will be presented in the clubhouse on Tuesday 9th April at
8.30pm following the Club competition. The draw for the Masters Sweep and the
draw for the Ladies Club Matchplay competition will also take place that night.
Tags: