Naomh Naille Club Notes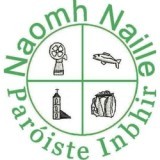 Slotto: There was no winner of this week's jackpot. Numbers drawn where: 1 2 6 5 3 7 4. The consolation prize of €80 went to Brendan McCole, Cranny Lower. Next week's Jackpot will be €1070. Anyone who is interested in having a direct debit for the slotto can contact Cieran on 087 2450505. There is also a new prepay option where you can pick your numbers and prepay for 1 line for 6 months is €50 or €100 for 12 months, for 3 lines is €120 for 6 months and €240 for 12 months.
Slotto Rota: The Senior team is going to be completing the Slotto for the next 6 weeks. The rota for this week is Barry Griffin & Stuart Johnson – Mountcharles & O Neills, Aidan Kennedy & Conor McDevitt – Inver & Frosses. The draw will take place in the Milltown Bar.
Sponsorship: The club would like to thank Alan Herron of Herron Auto, Donegal, who presented the club with O Neill's GAA footballs which were received through the Opel Kit For Clubs. Those present for the presentation where Brian McCabe, Senior Manager, Stephen Griffin, Senior Player, Frankie Greene, Club Chairman and Alan Herron.
Course: There will be an Umpires course in Ballybofey on Tuesday the 14th of May at 8pm.
Games: The Senior's had another great win at home to Naomh Colmcille at the weekend winning by 4 points making it 4 out of 4 in the league and they are now standing at the top of the table with 8 points. The team is training very hard together and it is obvious during games on the pitch. Unfortunately the reserves lost out to a very strong and young Naomh Colmcille but they are driving towards the championship will as there are great turnouts this year for games but the management would like to encourage the boys to come out to training also. Round 5 of the league will see the Seniors and Reserve's away to Naomh Padraig of Lifford on Saturday evening.
The Senior Ladies game at home to Urris was cancelled and shall be played at a later date. They will play Naomh Columba away in Glen this Sunday time is yet to be confirmed. Good luck to all teams over the weekend and we encourage the parish to come out and support as much as they can.
Tags: