Mark Caithness Scrapes Home in Dunfanaghy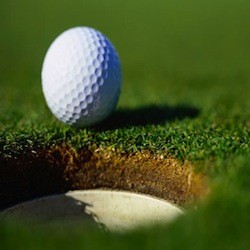 We had a very mixed bag of weather this weekend in Dunfanaghy with Saturday being by far the better day. And so it showed in the scores as 36 points was sufficient to win the Saturday competition but only on BOT.
With the poor weather the numbers of golfers braving the elements were sadly diminished but this did not stop Gerry Doohan having a super score of 38 points on Wednesday Open day. The wind was a big factor here and Gerry just managed to pip Donal Boyle for first place. Donal being the fine player he is must have felt his score on the day was sufficient.
Friday was another windy day and the ever present Willie Wilkin played in the 14 hole competition and after having 23 points on the front nine – wind assisted – he only managed 5 points for the remaining 5 holes. Willie felt he had blown his chances but the front nine was good enough to compensate so getting him First place.
Saturday was a really mixed bag and the course was packed. But it was the four ball of Mark Caithness and Graham Cummings that took the first two prizes decided on BOT of course.
Mark came out on top with Graham missing the top slot on BOT. Michael Dunne took third again on BOT so the scores were tight.
Sunday was a terrible day for wind and rain. In fact the sort of day no respectable man would even send the wife out for coal.
But Peter Johnston did it.
There were very few lunatics out on the day – you would think they had no home to go to – but giving Peter his dues he entered the Competition and went on to win it – mind you with only 28 points. But it shows how difficult the day was. Well done Peter both for entering and finishing.
Wednesday 8th May: Gents Open Singles Stableford
1st: Gerry Doohan. 38
2nd: Donal Boyle. 37
CSS: 36
Friday 10th May: Ladies & Gents Open 14 Hole Stableford
1st: Willie Wilkin. 28
CSS: n/c
Saturday 11th May: Gents Open Singles Stableford
1st: Mark Caithness. 36 bot
2nd: Graham Cummings 36
3rd: Michael Dunne 35 bot
CSS: n/c
Sunday 12th May: Gents Club Singles Stableford
1st: Peter Johnston. 28
CSS: 37
This weekend has the usual 14 hole Competition on Friday and Saturday is Singles Stableford Competition.
Sunday is the Monthly Medal Stroke and there is also an Ulster Cup Match on so get out early.
Youth Academy Notes
The Juvenile notes will now be posted under the Youth Academy notes as all notifications for future courses and offers specifically for the juveniles / youths / cadets will be under this heading.
Now to the notes.
Kyle Mc Garvey came out on top over the two inform players last Saturday. He had just one shot to spare over James Sweeney who was only one ahead of Conor Cheevers.
By the time you are reading this Conor and James will be back from Portmarnock having competed in the Irish underage Championship.
In the Cadet section Max Roarty came out on top by the narrowest of margins.
Tags: