Bonagee Utd U12s advance to Champions League Final.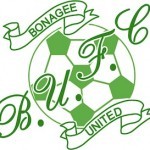 Bonagee hosted Keadue Rovers on Sunday last in the second leg of the Champions League semi-final.The score was 0-0 from the first leg . Bonagee started the game the brighter and were 1-0 up on five minutes.
Adam Murphy supplying a pin point cross,after good work from Jordan Nugent,to Joe Harkin who finished calmly inside the six yard box.The first half finished with no further score with the Keadue defense standing firm under severe pressure.
The second half continued in the same vein with Keadue struggling to make inroads into the home sides half and Bonagee finding it difficult to break through the Keadue defense.The introduction of Jack Murphy on 13 minutes reaped rewards almost immediately when he crossed an inch perfect ball for his brother Adam who duly volleyed into the back of the net.Bonagee continued to pressure and went close on several ocassions .With ten minutes left on the clock Jordan Nugent with his back to goal turned and dispatched a rocket to the top corner from the edge of the box ,giving the Keadue Keeper no chance.
Man of the match went to the indutrious Daragh Ellison, while Jonathan Coady ,Dylan O'Brien,Dean Adams, David Smith and Jazzer Martin all excelled in what was an accomplished team performance all round.Keeper Tuathal Lunny , Peter McGee, Morris McGee and Shane Boyle were best for Keadue.
Bonagee now face local rivals Kilmacrennan Celtic in the Final, time and venue to be confirmed.
Tags: