Donegal Action Against Austerity has responded to claims by Cllr Mickey Doherty that signs erected in Inishowen depicting the Taosieach in cartoon form were a disgrace.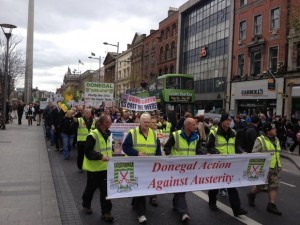 The Fine Gael county councillor made the claims at a meeting of Donegal County Council.
DAAA has said that Cllr has obviously never heard of Irish Pictorial Weekly, Scrap Saturday, Spitting Image and Punch Magazine.
"This is a well-worn peaceful method of holding the political elite to account. The term is 'political satire' for his information.
"Cllr Doherty went on to say that the people who put the sings up have nothing else to do. He would not give a location for the offending signs.
"We, the DAAA, are the organization who put them up and we have plenty of work ahead of us fighting the 'draconian' policies that Mickey Doherty's government are inflicting on the people of Inishowen and Ireland," said a spokesman.
The group said it erected two signs in Castlefinn, two in Buncrana, two in Carndonagh and two signs in Moville and we will be updating these signs in the months to come.
They added what was really disgraceful is that none of the Inishowen Fine Gael public representatives attended the meeting in the Colgan Hall last Friday night about the closure of beds at Carndonagh Community Hospital.
"Sinn Fein, Fianna Fail and Labour representatives were present at this meeting yet Joe McHugh, the Fine Gael TD for North East Donegal did not attend, sending his apologies that he was attending a family wedding.
"Joe McHugh was elected to represent his constituents not to'party' while beds in a local community hospital were being closed down. The arrogance of the Fine Gael party beggars belief."
The group said it also attended a meeting in Glencrow Community Centre several months ago where Mickey Doherty was asked why he did not support the motion that Cllr Jack Murray proposed in favour of Sinn Fein's 'Axe the Property Tax' Bill.
"His response was 'I voted the way I was told to vote'. Mickey Doherty was elected to represent the best interests the people of Inishowen in Donegal County Council rather than be a 'puppet' following the 'party whip'," claimed the DAAA.
The group added that the local Council elections will come around next June and hopefully the people of Inishowen will remember the callous acts of the Fine Gael Party, on a national and local level.
"The only way to effectively deal with those 'career politicians' who break their promises is to not re-elect them," claimed a statement.
Tags: