Ireland's most famous amateur weatherman has slammed sun-cream manufacturers as he predicted many more hot summer days for Donegal.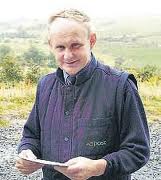 Michael Gallagher has predicted Ireland's weather for many years using the signs of plants and animals.
But as well as studying natural weather signs, the Glenfin postman is also an expert on natural cures.
He has even written a book 'Cures and Remedies of a Bygone Era' which has become a best-seller.
Michael says he is annoyed that people are splashing out a fortune on fancy sun creams and lotions when the answer is in their back garden.
"I have watched a lot of people getting sun burned in the past couple of weeks and it's a shame.
"People years ago never spent a fortune on fancy creams because they couldn't afford to or didn't need to.
"All they have to do is to plant a number of Aloe Vera plants and they have all the natural sun protection they need.
"All they have to do is to run the juice of the plant into them and it's a great protection from the sun.
"Even if they get burned the juices from the plant can be rubbed in and it soothes the skin.
"It annoys me when these sun cream companies go on television and advertise how good they are. A lot of the time people are just buying the name," he said.
Despite MIchael's claims, Aloe Vera does not offer protection from UV rays according to scientists.
But the good news according to Michael is that the warm weather is here to stay for the meantime.
"I said a few weeks ago that we are going to have a number of long periods of good sunshine over the summer.
"It may cool down a little bit but I still think it will be very settled and I think we will still get plenty of more sunshine," he said.
Tags: