The sailing season is well underway at the Rathmullan Sailing and Watersports Club as members established and new try out our ever expanding range of boats.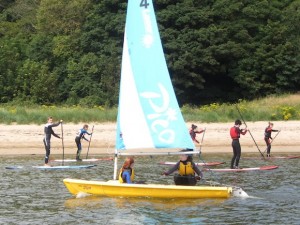 Sunday morning open sails are particularly popular, with a fleet of Picos, Bahias, and Vegos taking to the water.
Thursday evening sails are also on offer to adult members while racing sessions are run on Friday evenings for the juniors. Club members can also try out sea kayaking, with sessions on Sunday mornings and Thursday evenings.
Following our very convivial beach barbeque on July 5th, the next social event for the club is on Saturday July 20th with an overnight camping trip to Mullaghmore Sailing club and races between the two clubs scheduled for Sunday morning.
Then, on the August Bank Holiday weekend, the club will run dinghy races on Monday 5th (at 10am) as part of the annual Rathmullan Regatta.
For anyone, adult or child, who would like the chance to get out on the water taster sessions are available during the week from Rathmullan Sailing School (to book contact the school mobile number 086 0303607).
The warm sunshine and gentle breezes of the current spell of good weather provide perfect conditions for the complete novice to get a taste of dinghy sailing.
For more information on the club and the activities planned for the coming weeks, check out our web site www.rathmullansailingclub.com.
Tags: