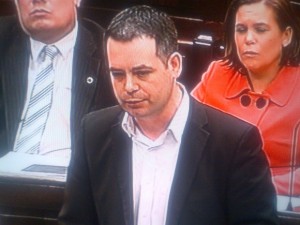 MORE than 4,000 people have been waiting for more than a year to be seen as outpatients at Letterkenny General Hospital, it emerged today.
TD Pearse Doherty received the figures today as Donegal Daily learned the hospital is still being under-funded compared to other hospitals and that staff are now so stretched it has led to a number of them having to take time off through stress.
Commenting on the response he received to Parliamentary Questions from the HSE, the Sinn Féin TD described the out-patient waiting lists in Letterkenny General Hospital as excessive.
Deputy Doherty said: "I am disturbed to discover that 32% of all out patients on the waiting lists for Letterkenny General Hospital are waiting over 1 year for treatment. In total, over 4,000 patients are currently waiting in excess of one year, with surgery, orthopaedic and ENT making up over 2,000 of these patients.
"The figures show that 59% (7,698 patients) of out- patients are currently on the list under 9 months, with 1452 new patients on average per month.
"Meanwhile the figures for patients on the Orthodontic Department in Letterkenny General Hospital are shocking. The average waiting time before treatment is 2.5 – 3.5 years and of the 469 patients currently on the waiting list, 199 have been waiting over 1 year and 102 have been waiting in excess of two years, leaving 64% of patients waiting in excess of one year.
"I am also aware that the Dermatology Department in Sligo Regional Hospital has 668 patients on the waiting list, of these 68% (457) are waiting in excess of one year. I am aware that GPs in South Donegal have been advised not to refer any further patients to the Department as a result of the workload.
"While the Government has invested 18 million euro in a national intervention strategy to tackle hospital waiting lists, the money has been directed at 6 hospitals – the Mater, Galway University Hospital, Mid Western Regional Hospital, Beaumont and Cork University Hospital with none of the funding directed towards the north western region.
"It has been recognised in recent times that Letterkenny General Hospital has been systematically underfunded despite being one of the most efficient in the state, dealing with up to 21,000 inpatients per year. It is clear that much more must be done to ensure that the necessary resources are put in place to reduce excessive waiting times. The people of the North West deserve no less."
Tags: