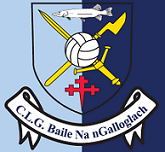 *30th Anniversary Celebrations – Changes*
Unfortunately due to the Donegal v Laois game on Saturday all events scheduled for that day have now been postponed to a later date, however Thursday's and Friday's events will go ahead as scheduled.
Thursday
7.30pm – 5K Race/Walk (registration at the clubhouse from 6pm)
Traditional Irish Music Session afterwards in the Dustys Bar
Friday
6.45pm – Ladies Senior Match v St Eunans
8.00pm – Poc Fada
8.00pm – Club Tug o' War
8.15pm – Ladies Challenge Match v Gaelic for Mothers
10.30pm (Approx) – Chinese in aid of Living Links will be launched from the town car park behind the old AIB bank, Contact Rose Crossan for details (086-0577214)
Music in the Travellers Inn afterwards
*Gaelic For Mothers*
Any mothers interested in playing in a fun challenge match against the 'Gaelic for Mothers' team from Convoy as part of the Club's 30th Anniversary celebrations are asked to contact Marty Barrett on 087-2768714. The game will take place on Friday 26th of July. Training will begin tomorrow evening.
*Chris Gallagher Memorial Match v Glenfin*
The second Chris Gallagher Memorial match will take place during the August Bank Holiday on Friday the 2nd of August at 7.30pm in Glenfin. Glenfin will no doubt be out for revenge after an impressive display last year resulted in victory for na Galloglaigh. More updates will be available closer to the time.
*Lucozade Sports Club Crusade*
The Club has registered to be part of this years Lucozade Sport's Club Crusade. I know plenty of Our Club members enjoy a bottle of Lucozade Sport before and after training and matches and what we need to do is collect bottle caps from these bottles and trade them for club gear and equipment from Azzurri. A bottle cap collection bag will be made available in the coming days at the pitch and in the mean time we would ask anyone who would like to help the club out to hold on to their bottle caps and hand them to Barry McNulty or any team manager. See www.lucozadesport.ie for more details
*Donegal Minor Girls*
Commiserations to Amber Barrett, Orla McAteer, Shannon McGroddy and Niamh Carr who were part of the Donegal Minor Ladies team who suffered defeat at the hands of a very strong Dublin team in the All Ireland Semi Final on Saturday. It was a huge honour for the club to have so many of our players representing the county and we are sure they will bounce back from this defeat and go on to further success with club and county.
*Junior Championship Semi FInal*
The Seniors will take on Robert Emmets this Sunday at 5pm in Convoy in the Semi Final of the Junior Championship. This is a huge game for the club and all support would be much appreciated
*Seniors*
CLG BnaG 1-6 Naomh Ultan 0-8
Na Galloglaigh emerged victorious from their 'must win' clash with Naomh Ultan in Killygordon tonight by the slimmest of margins. The first half panned out very much the same as the second leg last weekend in Dunkineely with CLG BnaG running in ahead at the break by 1-3 to 0-4, Cathal McGettigan once again getting the goal. In absolutely scorching conditions the heat was starting to really take its toll in the second half. Tempers flared on a few occasions and with ten minutes to go it spilled over as Enda McHugh went down followed by a scuffle which seen Naomh Ultans Aidan Duddy pick up a straight red while Cormac Friel received his second yellow of the game to leave it 14 men apiece. Na Galloglaigh's superior fitness began to show at this point and went 3 points up before Naomh Ultan replied with 2 to leave it a nervy finish, which took a while as Referee Micky Mulhern played 7 minutes of injury time during which time Na Galloglaigh played keep ball. Eventually the final whistle came and CLG BnaG will now progress to the Semi Final where they will play either Na Rossa or Robert Emmets, which will possibly be played next weekend. Team: Caolan McGettigan, Conor McNulty, Anthony McPaul, Cormac Friel, Manus Boyce, TJ Evesson, Enda McHugh, Lorcan Friel, Luke Barrett, Kevin McGee, Chippie Barrett (0-1), Pauric Curley, David Curley (0-3), Cathal McGettigan (1-1), Paddy Peoples. Subs: Christy McCafferty (0-1) for McGee, Tony McGettigan for McHugh, Brandon Toye for Boyce, Dean Burgess, Barry McNulty, Paul Grier, Shaun Gallagher
*Junior B Championship*
CLG Bnag 0-5 Burt 2-9
The Reserves have left themselves with a lot to do ahead of their second leg against Burt next Saturday. An almost trademark poor start yet again left them with a mountain to climb as Burt scored a goal with their first attack of the game after 3 minutes. Indeed it took na Galloglaigh 25 minutes to register a score on the scoreboard but by that time they were 0-1 to 1-6 down. The second half was a much improved performance and they dominated possession for long spells but they were unable to make this dominance show on the scoreboard and were never able to get any closer than 6 points to Burt. CLG BnaG kept pressing on at the opposition however and never gave up but their efforts left them exposed at the back and Burt managed to score their second goal of the game late on and now leave themselves with a tough task of needing a victory in Hibernian Park, Burt, next Saturday at 12 to force a playoff. A lack of training was evident in most of the performances from the home team, indeed the stand out performers on the day were those who had been training, namely Dean Boyce, Dean Burgess, Ryan Ferry and Paul Grier all playing well. Team: Seamus O'Donnell, Dean Boyce, Dean Burgess, Emmet Conaghan, Ryan Ferry, Paul Grier, Shaun Gallagher, Kieran Gorman, Myles Trearty, Jamie Heena, Gary Helferty, Caolan Bolton, Sean McBride, Ciaran McHugh, Hugh McMenamin. Subs: Paul Sweeney for McBride (20m), Conall McFadden for McMenamin (HT), Finian Ferry for Bolton (40m), Sean McBride for McHugh (58m)
*Senior Ladies*
As part of the Club's 30th Anniversary celebrations the Seniors will play St Eunans this Friday at 6.45pm
*Minor Championship – 1st Round 1st Leg*
The Minors will take on Glenswilly in the 1st leg of their 1st round clash this Wednesday night at 7.30pm. After defeating Convoy in both legs over the past two weeks the boys will be hoping to continue their run and progress to the Semis
*Minor Championship – Preliminary Round 2nd Leg*
Convoy 0-14 CLG BnaG 2-16
The Minors progress to the next round of the Championship after a good 8 point win over Convoy in a hard hitting and physical encounter played in perfect conditions in Convoy. Na Galloglaigh raced into an early lead and were 1-5 to 0-1 ahead after 10 minutes, and while Convoy did begin to come more into the game Nigel's men went in ahead at half time 1-11 to 0-7. Convoy were much improved at the start of the second half and at one stage closed the gap to three points before a goal from Myles Trearty put the boys in blue 1-14 to 0-11 ahead with 10 minutes remaining. That cushion allowed the boys to see out the final 10 minutes in relative comfort to run out victors over the two legs, after winning the home leg 2-13 to 2-7. Best for na Galloglaigh were Kane Barrett, Dominic Hull, and Luke Trearty. Team: Caolan Bolton, Kieran Sheridan, Jason McConigley, Darragh McGettigan, Luke Trearty, Brandon Toye, Gavin Grier, Dominic Hull, Jamie Heena (0-2), Emmet Conaghan (0-1), Kane Barrett (0-10), Ryan McDaid (0-1), Hugh McMenamin (1-2), Myles Trearty (1-0), Finian Ferry. Subs: Odhran Coll, Cormac Toland.
*U16s*
CLG BnaG 1-8 Fanad Gaels 2-8
The U16s picked up their first defeat of the season, after they were defeated by a late goal in an ill-tempered local derby on Friday night. The game was marred by a number of unsavoury incidents with both sides to blame, and the boys suffered for over-indulging in the physical aspect of the game, which did not suit their style of football. Na Galloglaigh got off to an impressive start and found themselves two points up after 15 minutes, with Duncan Patterson and Kane Barrett both scoring two points. The forwards were causing trouble for the Fanad defence, but just couldn't get enough possession into them. Barrett exchanged frees with Eoin Carr, but a late score from Fanad reduced the deficit to one point at half-time. A poor start to the second half proved to be the sides downfall, with Fanad scoring 1-3 within two minutes of the restart. Na Galloglaigh improved after this spell and dominated the remainder of the game. However, they could only add 1-3 to their tally. Connor Gormley scored a wonderful goal, while Barrett contributed three frees. Fanad scored a point, and then late in the game, struck for the winning goal. Milford found themselves short at the back, and despite a valiant effort from the full-back line, the ball trickled over the line from the boot of Fanad's corner-back. The boys tried desperately to get an equalising goal, but they could not find the breakthrough. The defeat is a blow, but there is still much to play for in the league campaign. Team: Gavin McFadden, Patrick Ferry, Kieran Sheridan, Odhran Coll, Conor McHugh, Shay Durning, Ronan Docherty, Luke Trearty, Cormac Toland, Jason Scullion, Connor Gormley (1-0), Shane McNamee, Duncan Patterson, Kane Barrett, Gavin Grier. Subs: Adam Serrinha, Daire Crossan, Dane Dunworth.
*U14 Girls*
After defeating Fanad Gaels by 5-10 to 1-5 last week the Girls are out again this Thursday in an away clash with Glenswilly at 5.30pm. All support greatly appreciated.
*U12s Girls Blitz*
CLG BnaG hosted a very successful Under 12 girls' blitz in the blistering heat of Friday evening. Glenswilly, Downings, Fanad and Termon were all represented on the night in what was a thoroughly enjoyable event. CLG BnaG prevailed over Glenswilly and Fanad with some future talent shining through on the night
*U12 Go Games*
The U12s were well beaten by league leaders St Eunans last night at home, with Enda McGinley and Kelly Ann Buchanan playing well for the home side
*U10 Blitz v Drumsurn on Saturday – Cancelled*
The U10 blitz scheduled for Saturday in Milford has been postponed to a later date due to the Donegal v Laois match. Training for U10's will now cease and everyone will take a well earned break after a very successful blitz season and will resume again on Friday 6th of September at the pitch. Thank you to all the coaches who have put in a great effort since training started back in February Paul Ryan, Roisin McCormack, Enda McHugh, Carol Gallagher, Odhran Coll, Kyle MaCauley and Miriam Fitzsimons. We look forward to a top class Parish League in September.
*U10 Blitz – Gweedore*
Our rising U10 stars took part in a very successful blitz in Gaoth Dobhair last Saturday with the A team coming away with 3 marvelous victories over Dungloe, Lifford and hosts Gaoth Dobhair and the B team came away with 2 victories over Gaoth Dobhair while coming up just short against a strong Dungloe B outfit. Our A team played Gaoth Dobhair in their first match and came away with a comfortable victory with strong scoring performances from Shane Black, Aisling McCormack, Eoin O'Donnell and Owen McElhinney and a fantastic goalkeeping display by Eoghan Heimstra. In their second game they got the better of a gallant Lifford side with some excellent displays by Ewan Douglas, Paul Ryan and Shay McBride-Friel and in their final game in sweltering conditions they came away with a 1 point victory over Dungloe after a titanic battle with brillaint performances from Liam Donnelly and Dara McDaid. Our B team lost out narrowly in their first match with good displays from Eoin McGettigan,Kerrys Sweeney, Dylan McGarry and Jordan Ryan. They then faced the host team twice and came away with victory in both matches with strong displays from Shaun Coffey, Odhran Doherty, Catelyn Hosford, Anthony Curran, Alec McConigley and Aodhan Ferry. Well done to coaches Marty McDaid, Odhran Coll and Paul Ryan and thank you to all the travelling supporters.
*U8 Blitz – Season Over*
U8 training and blitzes have now finished for the Summer. Training will resume when the schools go back at the end of August/beginning of September. Hope everybody enjoys the rest of the holidays. Keep practising your skills!
*Parents*
The club is calling for any parents interested and willing to help out at trainings to come forward. They do not necessarily have to get involved in coaching, unless they would like to, but if they feel they can assist in any way in the running of trainings, blitzes etc then please let us know.
*Prediction Competition*
Current Top 10 Leaderboard. For the full leaderboard why not sign up to our weekly newsletter. To sign up send your name and email address to MilfordDonegalGAA@gmail.com or to 0863400082.
*Lotto*
This weeks lotto numbers were 1-15-21-23. No jackpot winner, 5 match 3 winners, win €15 each. The winners were: Leona Cullen, Milford, Ger Hardiman, Ramelton, Joan O'Donnell, Rosgarrow, Deirdre O'Toole, Drumbern, Gabrielle & Miriam Fitzsimons, Woodlands, Letterkenny. Next weeks Jackpot is €920.
*Evolution Fitness*
All paid up club members will now be able to avail of a €10 discount on 3 month membership. Normal 3 month membership is €80 but will be available to members for €70. If interested contact Jack Duddy at Evolution Fitness beside the mart in Milford
*Contact Us*
For all information and queries contact MilfordDonegalGAA@Gmail.com, follow us on Twitter on @CLGBnaG, and on Facebook on www.facebook.com/clgbaile.nangalloglach or see our website www.milford.donegal.gaa.ie/
*Daniel O'Donnell Concert*
The Donegal G.A.A. Supporters Club would like to remind all Donegal followers that tickets for the Daniel O' Donnell concert in the Great Northern Hotel are selling fast so you are advised to reserve your tickets immediately. Daniel will be in Concert with Mary Duff on Wednesday August 7th and tickets are available direct from the hotel. Tel: 071-9841204 or email reservations@greatnorthernhotel.com. All proceeds from this concert will go to the Donegal G.A.A. Supporters Club who wish to acknowledge this extremely generous gesture by Daniel.
*Unemployed*
Are you in receipt of Social Welfare and unemployed for more than twelve months? Are you interested in coaching Gaelic Games? If so you may be eligible to partake in a Social Employment Scheme, Sponsored by the Club, training will be provided. For more information contact Joe at 086-8547114 or milforddonegalgaa@gmail.com
*Training*
Seniors: Tues & Thurs at 7pm
Ladies: Wed (6.30pm) & Sat (10am)
U12s: Fri at 5.30pm
*Milford GAA Club Gear*
Club gear is now available to order. Anyone who has ordered club gear but yet received it are to contact either Aidan or Barry. The range of club gear includes Hoodies, Tracksuits tops, Windcheaters, hats, navy polo shirts, white polo shirts, and t-shirts. There is some lovely gear available at very reasonable prices and photos are available to view on the club Facebook page. Orders can be placed with either Barry on 086-3400082 or Aidan on 087-1223177.
Hoodies (Kids 5-11: €29.99. Kids 13-14: €38. Adults S-XXL: €39.99)
Track top (13/14 – Adult XXL: €38)
Windcheater (Adult S-XXL: €23)
Hat (€7.50)
Polo Shirts (Navy) (13/14 – Adult XXL: €29.99)
Training T-Shirt (Kids 5-11: €18. Kids 13-14: €19.99. Adults S-XXL: €23)
Initials can be added at an additional €2 each
Tags: