Buncrana GAA Notes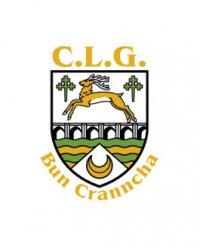 All-Ireland Quarter Final Tickets: Ticket orders will be taken between 8.00pm and 9:00pm on Tuesday evening at the Scarvey, prices will be posted on Facebook as soon as they are released.
Annual Buncrana GAA BBQ: The annual Buncrana GAA Barbecue is one of the most enjoyable nights of the year and it takes place on Saturday 17th August. Delicious food, full bar, live music and the chance to win the lotto jackpot…Don't miss it! Admission including food only €10.
Emergency Services: Buncrana GAA are delighted to offer our facilities to The Irish Coast Guard and the RNLI who will now be using our training field for emergency landings to airlift patients to Dublin when required.
Next Wednesday they will carry out a practice Helicopter landing and training drill on our grounds at approximately 6.30pm to 7pm. This is a new machine that the coastguard have and by all accounts is one of the biggest available. It is going to be an interesting sight & parents and children are welcome to view the event at The Scarvey if they wish.
Senior and Reserve Football: The Senior and Reserve sides faced Glenfin at the Scarvey on Sunday evening. Unfortunately both sides were unable to record victories, with the Reserves losing out by 3 points and the Seniors losing by a single point, after a very close battle.
Girls Football: Girls football training is on Monday night at 7.00pm sharp. Open to all girls from the ages of 9 to 16 years of age. New players are also welcome. Please bring your own water bottle.
U6 Fundamentals: Bun Cranncha C.L.G. youngest team the U6s (Fundamentals) have finished up for their summer break. After training hard all year, the team finished up with a trip away and a presentation morning at the Scarvey. The sessions were well-attended all year and no doubt we have some stars of the future involved in this age category. The coaches would like to thank all the parents who have helped us throughout the year. Last week a mini-summer camp was held at the Scarvey for the 5 and 6 year olds, again this was well attended, by both new and regular players, looking forward to seeing you all back next season. With some fantastic weather ensured it was enjoyed by both players and coaches alike. Sun-cream and water seemed to be the words of the week! The coaches (Claire Doherty, Jim Gillan, Declan Doherty and Bronagh McBriarty) would also like to thank SuperValu for sponsoring the fruit and water on our last day, helping to encourage good nutrition and hydration from an early age!
U8 Football: U8 Football will continue on Friday at 6.30pm, new members are always welcome.
U9/U10 Football: U9 Football (for children born in 2004) and U10 Football (for children born in 2003) is on Friday evenings in the Scarvey from 6:30pm. New players are always welcome.
U12 Football: The U12's season has now finished and the management team would like to take this opportunity to thank all the current squad and their parents for all their efforts this year. It is estimated that we played 25 matches this year, including teams from 9 different counties, so an excellent effort was made this year. A reminder that we will be going to Rockhill on August 17th, if anyone that has not received information on this please contact Aidan on 0862762671.
U13 Football: The U13's (players born 2000 or after) training begins on Tuesday 30th (7-8pm, team meeting at 6.30 sharp). Training will be Tuesday nights 7-8pm and Friday 7-8.30pm. Full attendance and commitment is required for this short but important season, contact Aidan on 0862762671.
Lotto: The winning numbers in the lotto draw, which took place on Tuesday 17th July in O'Flaherty's Bar on the Main Street, are as follows: 7-9-18-26
There was no jackpot winner this week, however prizes of €20 go to each of the following participants:
Barry Gallagher, C/o St Mary's Bingo
Brendan Gallagher, Ture, Muff
Roisin McDermott, Carraig Fern
Deirdre Deeney, Castle Ave
Liam Coyle, Shore Rd
Club Notes: Anyone who would like to receive a copy of the weekly club notes should email Oisín at buncrana.pro@gmail.com to be included on the mailing list. If you have any items which you think should be included in the club's weekly notes, please email Oisín at buncrana.pro@gmail.com by 6pm on each Sunday for consideration. To keep up to date with all the latest goings-on, please join us on www.facebook.com/buncranagaa or www.twitter.com/buncranagaa @buncranagaa, or visit our website www.buncranagaa.com.
Tags: