FANS of the Donegal team are rallying around Jim McGuinness and his team after Sunday's All-Ireland quarter-final defeat at the hands of Mayo.
The Connacht champions were simply awesome at Croke Park in every part of the field.
But some fans with short memories have been criticising the Donegal team.
However among those leaping to their defence is Donegal's Voice of Sport Charlie Collins.
"Don't let me hear one person complain about the lads," said Charlie.
"Bad day but too many good ones for that."
His words have been echoed on social media sites; with arguments over the match.
One Facebook user blasted back at the critics: "Didn't take you long to get off the bandwagon."
The players have taken to Twitter to congratulate Mayo.
Mark McHugh admitted they were hungrier, but vowed: "This Donegal team is not dead yet."
Goalkeeping coach Pat Shovelin also said the team would be back and joked: "Summer off now so might get that bloody lawn cut."
And Padraig MacLochlainn, TD, said: "Thanks to this Donegal team for the wonderful year of 2012.
"They will dust themselves down and rise again. Rory McElroy has demonstrated the highs and lows of sport psychology. Thats sport for you. They are all human at the end of the day. I hope the Mayo team go on and deliver a long overdue All Ireland victory for their fans."
And this picture (below) sums up what our gaelic games are about:
Kevin  McGettigan from Kilmacrennan and his cousin Ava Munnelly Kildare/Mayo in Croke Oark for the big game: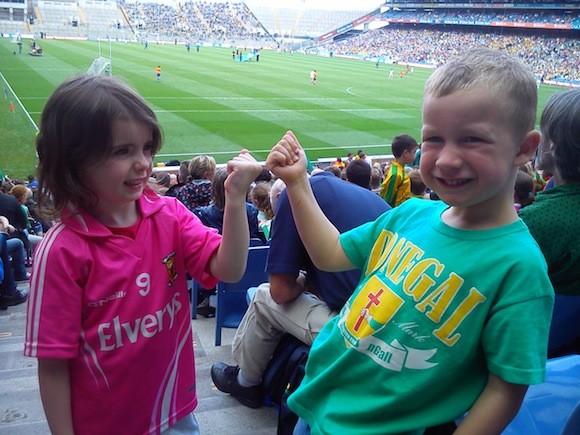 Tags: