THE owners of one of County Donegal's biggest tourist attractions have published CCTV footage of two vandals – after they failed to say 'sorry'.
The Donegal Bay Waterbus was broken into in the early hours of Monday.
Two men could be seen trying to fiddle with the boat's electrical systems.
The company which owns the boat – which takes tourists on trips around the bay – warned those responsible on Tuesday that they had 24 hours to contact them to say 'sorry' and it would be forgotten about.
However the men never came forward and the matter is now with Gardai in Donegal Town.
And by last night more than 50,000 people had viewed the images; though as usual some trolls had their own views.
In a post on its facebook page, the Waterbus crew said in a statement: "We wish to thank those who shared our recent pictures and video.
"Thanks to you over 53,000 people who saw these images. It is very gratifying to see such a sense of pride and good will in Donegal and beyond.
"Due to your efforts we have been made aware of those responsible and the matter is ongoing.
"One thing we would like to comment on is that we find it rather strange that some people (you know who you are) find this matter amusing. Having read several 'humorous' tweets we can simple say this…Imagine it's not the boat's engines that are interfered with next but instead your family car.
"Would you find it amusing if all of a sudden the steering failed as your parents, brothers sisters etc drove down the road… think about that. We are sure you wouldn't be tweeting or messaging in the same light hearted 'comical' way.
"We would ask those who suggested that this was a publicity stunt to please 'Unlike' our page straight away. The Crew here do not appreciate your presence."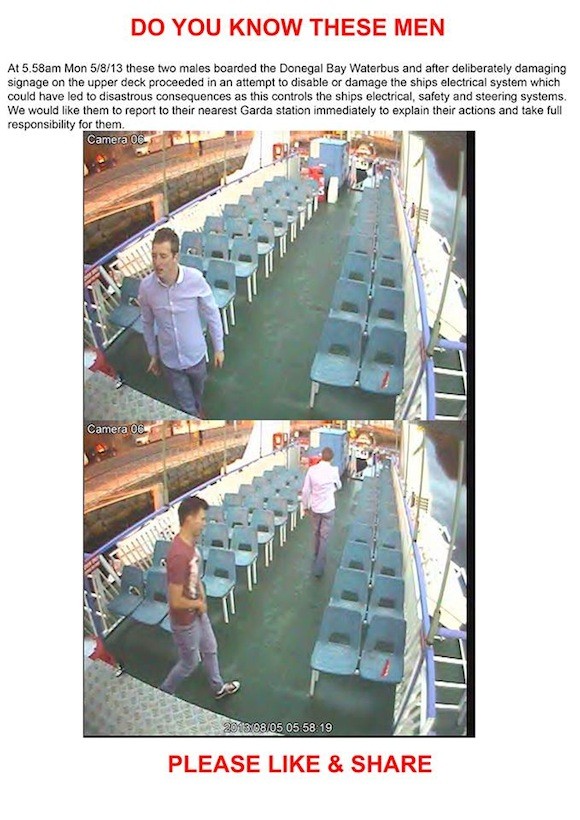 Tags: