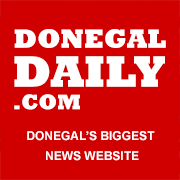 Letterkenny AC Chairman, Brendan McDaid, has said he's hopeful that in the region of 200 will take part in Sunday's Danny McDaid 15K road race.
The race is named after double Olympian, Danny McDaid, who competed in Munich in 1972 and Montreal n 1976.
"It's hard to believe that it's that time of the year again. Sunday will see the ninth staging of the race which has grown steadily over the years," the chairman commented.
"It is at the right time for people who are thinking of longer distances," he said. "People have been doing that many 5ks now that it is a nice change and it gives them a feel of where they are at in their training. We are expecting a large turnout and hopefully the weather will be kind to us," he added.
Once again, the main sponsor of what is the longest race in the Donegal Athletics Board Grand Prix Series is the Station House Hotel.
Siobhan Barrett-Doherty of the Station House Hotel said the hotel was delighted to be associated with such a beneficial local event.
"This is an event with strong local affiliations and we like to be able to support local initiatives as a local home-gown hotel," she said.
Registration at the Aura Leisure Centre from 10 am, with the race starting at 11.30 at Ballymacool Terrace.