Donegal has the fewest number of burglaries according to a widespread survey.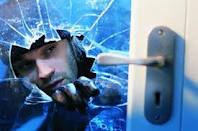 The AA Home Insurance survey of almost 15,500 people said that just 13% of people in Donegal have been burgled.
Dublin is worst for burglaries overall, with more than 38% of people saying they have been a victim of this crime at some stage.
But it is the commuter counties around the capital which have seen the greatest increase.
Counties Louth, Laois, Offaly and Kildare have been hit hardest while County Meath has seen the greatest increase in the commuter counties with 40% more burglaries in 2012 than eight years ago.
This figure was reflected in the latest AA Home Insurance survey which showed that people from Meath have experienced more burglaries this year than in any other county.
Kildare came in at second for overall burglaries with over 34%.
Conor Faughnan, Director of Consumer Affairs at the AA explained: "The problem in the commuter counties around Dublin is that every morning a would-be burglar knows that there will be a mass exodus towards the capital, leaving behind whole estates full of empty houses, meaning easy pickings."
The AA survey also found that more people in Limerick said they were burgled than in any other county in Munster. Burglaries in Limerick have increased by almost 10% since 2004, reaching 22%
Cavan is worst for the Ulster counties in the Republic, with more than 19% of those polled saying the same.
"Burglaries don't just mean the loss of some of your belongings but they also mean an infringement on your personal life and your security" added Mr Faughnan.
The AA poll discovered that 14% of those who were burgled said that the offender got in through an open door or window.
But over 31% of participants said that the intruder gained access through a locked door.
Mr Faughnan said: "To combat this, make sure all exterior doors are fitted with deadbolt locks which are pick-resistant and be sure that these doors are made with solid wood or metal, a minimum of one inch thick. In the majority of cases, burglars gained access through a closed window so it would also be a good idea to fit window locks.
"Having all these additional security measures would be a complete waste if you left your house keys where a burglar can easily find them. Don't leave your keys in obvious places like under a plant pot, on the door frame or beneath a mat.
"When no one is home, it's worth leaving a light on or perhaps the radio to deter a would-be trespasser. However, the best way to protect your home is with a house alarm."
Tags: