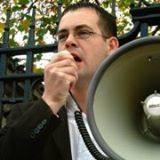 Sinn Féin Finance Spokesperson Pearse Doherty TD has called on Minister for Finance Michael Noonan to respond with urgency to statement by a Personal Insolvency Practioner on RTE's Drivetime this evening regarding how people will be dealt with by PIPS.
Deputy Doherty said: "The government needs to clarify immediately if these Personal Insolvency Practitioners are working on the basis that an insolvent solicitor would need a larger home than an insolvent PAYE worker, because of their "status in society", as this person said on RTE radio this evening.
"People listening to Drivetime tonight and hearing the first interview with a member of the state's woefully under capacity Personal Insolvency Practioner service must surely have thought they needed their ears checked.
"People have been waiting desperately for this service to come into operation since last year and have suffered disappointment after disappointment as its many flaws, such as banks retaining a veto, then the multiple delays in establishing it, came to pass.
"Today they were completely underwhelmed when it was revealed that only 37 PIPs are in operation when the government itself says it's expecting thousands of applications. Whole swathes of the state are unserviced and where is serviced, PIPs can cherry pick clients and charge huge sums.
"Now we get an insight into how some of these PIPs think and it will be extremely frightening to people. The Minister needs to respond with absolute urgency to this statement; set out exactly what kind of training the PIPS are getting and whether what this man said is true. He needs to reassure people that this process is going to be fair and equal."
Tags: