Musician/ Musicians wanted to provide music for one morning a fortnight .If you have 2 hours to give to your community . Petrol expenses paid. Please contact us on 074 95 61686.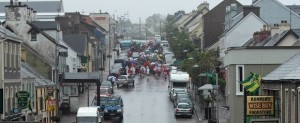 Siopa Pobal na Rosann: The Autumn wear is now available in the shop. Thanks to all who continue to donate items and to those who purchase items. If you have 3 to 4 hours to spare in the week we would appreciate your time as a volunteer . Phone Norah on 0879615775 if interested.
Would you like to embrace change in your life then this is the course for you "Introduction to Living Wheel System" to commence in September. Contact Rosses CDP on 074 95 61686 for more details. This is funded by the DLDC.
Lego Appeal: Has your children outgrown their Lego? Autism Support Dungloe are hoping to run a Lego Club for children on the Autism Spectrum in the near future and are appealing for donations of Lego. Any donations would be appreciated, if you could please leave any unused Lego in Siopa Pobal na Rosann (beside McGlynns) for collection, Thank you.
Autism Support Dungloe are running a Drama Club for 6 weeks beginning Saturday November 9th at the CDP, Chapel Rd, Dungloe from 11am-12pm. Children on the Autism Spectrum/associated disorders, siblings and friends are welcome to attend. Cost is €2 per child. We ask that a parent/carer accompanies the child to the club. Refreshments will be provided and parents will have a chance to meet up for a chat. For further information and updates of events the group has a facebook page Autism Support Dungloe or contact Dolores Bonner 087-0535442.
Fit Kidz – Class will start on Monday 16th September. This class is aimed at 5-11 year olds as an all round activity class, with the emphasis on getting and keeping your child at a good level of fitness through the medium of games, martial arts, and team activities.
Playmatters: We're back. Meeting Monday mornings in the Rosses CDP, Chapel Rd. This session is for parents and carers of young children. 10 a.m. to 12 p.m. Cost: €2 per session. Everyone welcome.
AGM: The AGM of the Mary From Dungloe Festival will be held on Tuesday 15th October at 8 p.m. in Ionad Teampall Chróine.
Active Retirement Group are back again on Tuesday 17th September 11 a.m. to 1 p.m. New members welcome.
Irish Classes: If you have basic Irish and would like advance classes to be held on Tuesday evenings, contact 95 61686. This course will only be held if there are enough numbers. Booking is essential. Cost: €5 per night.
North West Ladies: A singalong will be held the last Friday of every month.
Tags: