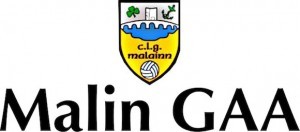 SENIOR FOOTBALL
Congratulations to all involved in the Donegal SFC win over St Eunans in Buncrana on Saturday.
It was a superb team effort to defeat the defending champions, a win which puts the club into its first ever SFC semi final where Killybegs will provide the opposition.
Game is due to be played on Oct 6th,  venue and time is yet to be decided.
Massive thank you to all our supporters who helped cheer the side to victory and also to the support we received from our neighbouring clubs. It's back to league action this weekend.
Check the parish bulletin, club facebook page and twitter account for more details on this weeks fixture.
UNDERAGE FOOTBALL
Malin GAA Autumn Schools League that was due to take place on Sunday morning was cancelled due to the weather conditions. The league will now begin on Sunday the 22nd of September. We would like to invite ALL BOYS AND GIRLS aged 7-12 within the area to take part in Our New Autumn Schools League. Both leagues will run over three weeks with the U9 League beginning at 12:30, and the U12 Shaun Farren Leauge beginning at 10:30. We ask that the children are at the clubhouse 15 minutes before the start time. A free bus is available from National Schools for the 7-9 age group, (Ballymena @11:30, Urblereagh@11:45, Malin Head@12, Gleneely @11:30, Culdaff @11:45).
This will provide an ideal opportunity for any youngsters in the area, who are not already involved in the club to get an introduction to Gaelic Games. Just bring a bottle of water & a smile.
Any Questions? Contact Danny on 086 8988180 or Christina on 086 1980399.
Well done & thank you to all the Boys & Girls who travelled with their coaches to Buncrana on Saturday to support the senior team.
All children involved were extremely well behaved and a credit not only to their parents but to the club also.
LOTTO
There was no winner of this week's lotto jackpot of €700.
The sequence drawn was 5-2-7-3-1-6-4.
The winner of the 50 euro was Sally Mathews, Ballylinn, Malin, with the 20 euro sellers prize going to Ronan Mc Laughlin.
Next week's jackpot stands at  €750 and, as always, we would like to thank the local community for their continued support of our weekly lotto draw.
CLUB NOTES
Any items for the notes should be forwarded to Martin Doherty on 0861585880 or alternatively send an email to the new club email address pro.malin.donegal@gaa.ie at no later than 9 o clock on the Sunday evening.
CLUB NEWS
You can now stay up to date with all the latest happenings within the club by checking our facebook page www.facebook.com/malingaa, by following us on twitter @malainnclg, or by sending a text to the club texting service 0868668531 to avail of club fixtures.
OTHER NEWS
Congratulations to the hurlers from Burt and the ladies from Buncrana who both collected County titles over the weekend.
Tags: