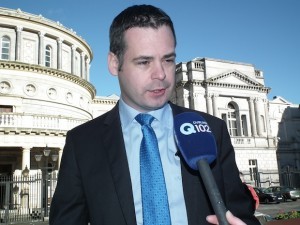 DONEGAL TD Pearse Doherty TD has said the new targets for concluded agreements on mortgages lack ambition and are wide open to abuse.
He was reacting to figures from the Central Bank and is questioning the definition of 'concluded agreements' with mortgage holders.
"The setting of concrete targets for conclusions, rather than just offers by the banks, is welcome but overdue," said Doherty.
"I am disappointed that the targets of only 15% concluded by the end of this year, moving up to only 25% three months later, lack ambition.
"More seriously, today's statement from the Central Bank is tellingly silent in what it considers to be a "concluded agreement".
"Unless further clarification is issued we can only presume that they will count repossessions or deals imposed under threat of repossession as "concluded agreements".
"The process of setting targets has been abused by the banks which have relied on legal letters to meet their targets. The Central Bank, and if necessary Minister Noonan, must clarify immediately that the targets will not be met by moving down the repossession route.
"My office has received many examples of banks abusing the system and simply moving to the legal route as a first step. As long as this is tolerated any targets are meaningless.
"Once again, I am calling for Minister Noonan and the Central Bank to stand up to the banks and make it clear that these targets are for meaningful solutions and that threatening repossession cannot count towards meeting targets. "
Tags: