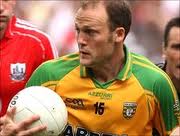 DONEGAL forward Colm McFadden is the only county player nominated for a 2013 All Star.
A year after Donegal players dominated the nominations on the back of their All-Ireland success, the St Eunan's College teacher is the only Donegal representative this time around.
Ulster champions Monaghan have six nominations, whilst Tyrone have four.
The final selection will be announced live on Friday, November 8 at the All-Star banquet at Croke Park.
The nominations are:
Goalkeepers
Stephen Cluxton (Dublin)
Robert Hennelly (Mayo)
Rory Beggan (Monaghan)
Full backs
Rory O'Carroll (Dublin)
Ger Cafferkey (Mayo)
Keith Higgins (Mayo)
Colin Walshe (Monaghan)
Killian Clarke (Cavan)
Chris Barrett (Mayo)
Drew Wylie (Monaghan)
Cathal McCarron (Tyrone)
Marc Ó Sé (Kerry)
Half backs
Conor Gormley (Tyrone)
Colm Boyle (Mayo)
Lee Keegan (Mayo)
Cian O'Sullivan (Dublin)
Donal Vaughan (Mayo)
James McCarthy (Dublin)
Jack McCaffrey (Dublin)
Dessie Mone (Monaghan)
James Loughrey (Cork)
Midfielders
Michael Darragh Macauley (Dublin)
Aidan O'Shea (Mayo)
Séamus O'Shea (Mayo)
Darren Hughes (Monaghan)
Paul Conroy (Galway)
Anthony Maher (Kerry)
Half forwards
Seán Cavanagh (Tyrone)
Colm Cooper (Kerry)
Cian Mackey (Cavan)
Paul Flynn (Dublin)
Diarmuid Connolly (Dublin)
Donnacha Walsh (Kerry)
Ciarán Kilkenny (Dublin)
Matthew Donnelly (Tyrone)
Lorcan Mulvey (London)
Full forwards
Bernard Brogan (Dublin)
James O'Donoghue (Kerry)
Martin Dunne (Cavan)
Paul Mannion (Dublin)
Conor McManus (Monaghan)
Cillian O'Connor (Mayo)
Paddy Andrews (Dublin)
Colm McFadden (Donegal)
Michael Newman (Meath)
Player of the Year Nominees
Michael Darragh Macauley (Dublin)
Stephen Cluxton (Dublin)
Lee Keegan (Mayo)
Young Player of the Year Nominees
Jack McCaffrey (Dublin)
Cillian O'Connor (Mayo)
Paul Mannion (Dublin)
Tags: