People living close to the house police believed Kieran McLaughlin had been hiding out are living in fear in the belief the 58-year-old murder suspect is on the run in the area.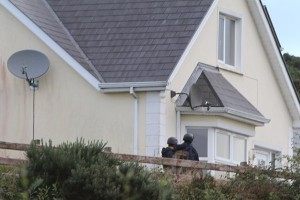 McLaughlin (58), from the Galliagh area of Derry, is the man police believe shot dead Barry McCrory (35) in broad daylight in a flat in Shipquay Street on Thursday last.
A huge cross-border manhunt has been ongoing since the shooting in an attempt to find him. The PSNI have warned members of the public who come across McLaughlin not to approach him but to immediately phone 999.
Members of the Garda's elite armed response unit surrounded the large cream-coloured dormer bungalow in which they thought the suspect was hold up at around 5.30pm on Friday.
Neighbouring families were moved from their homes and allowed to return 18 hours later. No one was present in the house on Saturday afternoon. Although the curtains were open, the lights were on and blinds in a conservatory at one end of the house were closed.
There was no sign of a forced entry and the only evidence of a police presence was flattened grass where armed response officers lay throughout the "stand off" and an empty one-litre water bottle.
Nearby homeowners said they knew "nothing"  about the house at the centre of the drama while one woman revealed they were "fearful."
She said she also knew "nothing" about the house – located 50 yards on a hillside on the Brae Road about five miles from Burnfoot – but confirmed a man had been living in it.
She said: "We were told there was a gun man in the house up behind us. When we were asked to leave we went and stayed in a hotel. When we returned after getting a phone call it was still not safe. We were not allow back in until 12 o'clock."
The said the whole experience had been "frightening."
She added: "We are even afraid to open our door."
Indeed, so fearful are residents living in the immediate vicinity of the house, they alert police to any strangers in the area. On at least one occasion an armed response team rushed to the area after being alerted by one neighbour who became fearful.
The area was sealed off for a brief period and the armed unit withdrew a shortly time later are reassuring the family concerned.
The PSNI carried out searches in homes – including those of family members – in the Galliagh area on the night of the killing – before naming McLaughlin as their suspect and releasing his photograph to the public.
Estates in the Galliagh area are visited regularly by PSNI patrols mainly centred round Ederowen Park where McLaughlin's daughter lives and a house he regularly visited.
Tags: