A 65 year old man caught at a cannabis growhouse in Ballintra told Gardai he was in the house to strip wallpaper from the walls.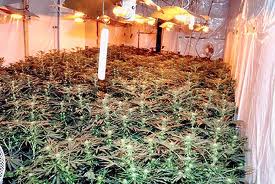 The Chinese national was caught at the house on January 24th last following an undercover Garda operation.
Gardai raided the house and found an elaborate growhouse in which the electricity was by-passed, an irrigation system had been set up and windows blackened out.
Three men were caught on the premises and a total of €212,000 worth of cannabis ready for sale was uncovered.
One of the men, Pui Lam Sam, was before Letterkenny Circuit Court yesterday, after he previously pleaded guilty to three charges of possession and cultivation of cannabis plants.
Defence barrister Peter Nolan said Mr Sam had moved from China to Manchester ten years ago where he worked in many Chinese restaurants.
He then moved to Belfast where he worked in a Chinese restaurant there.
He met a man there who told him he could make really good money working.
He was taken to another part of the country but did not realise it was Ballintra in Co Donegal.
Mr Noland said Sam was a prisoner in the house and was not allowed outside and that food was delivered to the house when he requested it.
When he asked to leave after a week, he was told he could not and that he must stay there and look after the plants.
Mr Nolan said that Sam was basically a prisoner who was forced to live in appalling conditions.
He said his health was not good and he got paid no money for the time he had worked there.
His mother was 92 and was dying in a hospital in Hong Kong.
He had once had three children but one had taken his own life in Hong Kong because of gambling debts.
Judge John O'Hagan said growhouses were a serious problem for Gardai across Ireland and he was very familiar with them.
"I have to punish him and I must send out message to discourage people getting involved. I can't give him sweets or pat on the back and tell him to go home and not do it again.
"It is not in my power to deport him and many people say he should be deported – if you were to do it immediately then it would almost be a reward. You might not come back but you have not suffered. I can recommend deportation but that is for the authorities to do," said the Judge.
He sentenced Sam to a total of three years in prison on all three charges and backdated the sentence to January 24th when he went into custody at Castlerea Prison.
Tags: