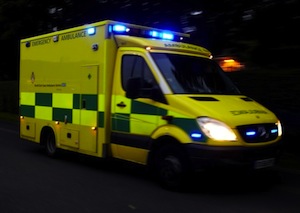 A TEENAGE thug climbed into the back of an ambulance whilst paramedics were helping an ill patient, it has emerged.
John Stokes, 19, from Chestnut Grove, Ballybofey, was so intoxicated he had little memory of the incident, his solicitor told Letterkenny District Court today.
Garda Inspector Michael Harrison said that on December 22 last year Stokes had entered Ballybofey Garda Station where he became abusive. He left the premises after being warned to do so.
However an hour later – at 2.50am – paramedics were working to stablise the victim of an assault in a separate incident in the town.
Whilst they were doing so, Stokes got into the ambulance and lay down and went to sleep.
As worried paramedics tried to get him to leave, Stokes became threatening and abusive and Gardaí arrived at the scene and arrested him, said Inspector Harrison.
Defence solicitor Ciaran O'Gorman suggested that Stokes had gone to the Garda station earlier and that Gardaí should have known at that stage that Stokes was in an distressed and intoxicated state.
"Why didn't he go home?" asked Judge Paul Kelly, noting the incident was in the Main Street where Stokes lived.
"He has very little recollection of what happened on the night. He became abusive to ambulance staff," said Mr O'Gorman.
Judge Kelly asked Stokes how he would have felt if he had been receiving treatment in an ambulance and someone else turned up and became abusive.
"I wouldn't have liked it," said Stokes.
Judge Kelly asked: "So why didn't you go home instead?"
Stokes replied: "I didn't want to walk that way in case the man who hit me earlier was there again."
Stokes was fined a total of €350 and given a month to make a donation of €150 to Planet Youth in Ballybofey.
Tags: