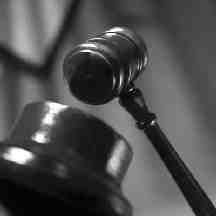 A FINN HARPS fan who got drunk and gave 'the finger' to a passing Garda has been warned about his future behaviour.
Damian Woods, Quinn Place, Ballybofey, was drunk at the time and had never been in trouble before, a court heard.
On November 4th last year, Garda Inspector Michael Harrison told Letterkenny District Court today, the 30-year-old was at Main Street in Ballybofey.
He approach a Garda who was nearby in a patrol car, went up to the window and gave the Garda a "one-fingered salute."
He then became abusive.
Solicitor Patsy Gallagher, defending, said Woods was "deeply remorseful."
He had been at a football match and was heavily intoxicated.
"It's not in his character; the actions were appalling on the night in question," said Mr Gallagher.
"Mr Woods is a man who has never been before the court before and he has no intention of ever coming back. He has no recollection of the night in question."
Judge Paul Kelly asked: "What's his problem with Gardai?"
Mr Gallagher said that Woods was simply intoxicated and the incident was completely out of character.
Judge Kelly ordered Woods to pay the charity Planet Youth in Ballybofey €150 as it was his first offence.
Tags: