A man severed the artery of a Garda Sergeant after a row erupted because he claimed his daughter was mistreated at a nightclub.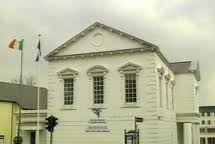 Carpenter John Boyle attacked the Garda and four bouncers outside Voodoo Nightclub in Letterkenny.
Medics had to rush to save Sgt Aidan Doherty after he was attacked with a replica Stanley knife.
Letterkenny Circuit Court heard today how blood squirted for up to a metre every time medics took bandages from Sgt Doherty's arm.
He was eventually operated on but the Garda will have a permanent scar on his arm.
Details of the savage attack, which happened on August 14th, 2011, were read out in court.
After an altercation with bouncers Boyle was removed from a queue and taken to one side.
However Boyle, 47, who was charged with four counts of assault causing harm and two of making threats to kill, flipped and stabbed five people.
Boyle stabbed Sgt Doherty in the leg and told him "I know where you F****** live and I'll kill you."
He also said to bouncer after stabbing him in the leg "You'll remember that the next time."
Three other bouncers noticed later they also all had stab wounds.
Boyle, of 14 Leck Cottages, Letterkenny, said he had received a call from his daughter to say she had not been given change from €50 after she bought a drink.
When she complained she was removed from the premises and was allegedly told that the club did not want her kind in it.
She telephoned her father and he went to meet her and took the knife from her which she had in her handbag.
He claimed he went to explain this to the bouncers and things got out of control.
Barrister Peter Nolan said Boyle was a hard-worker who was not born with a silver spoon in his mouth.
He was a settled traveller who had a very difficult upbringing.
Judge John O'Hagan said the fact that he is a settled traveller will not influence him in any way.
He said whatever was said to him was not an excuse for him to do what he did on the night.
Judge John O'Hagan said he did not bring the knife to the nightclub to cut his nails or to cut carpet in the nightclub.
Judge O'Hagan said "I have a duty to the public and to members of An Garda Siochana that Mr Boyle will not do this again.
"I can't be seen to be giving people sweets in the light of severity of this assault.
"It cries out for a custodial sentence. I don't like doing this but it has to happen. Be he 47 or 18 under no circumstances will weapons or any other instruments be produced. It will not happen on my watch," he said.
He sentenced Boyle to two years in prison for all six counts and suspended the last six months.
Tags: