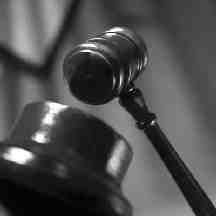 A DONEGAL man caught wielding a sword outside his neighbour's home later launched a vicious and unprovoked attack, a court has heard.
Michael Sweeney, from Glencar Park in Letterkenny, appeared before the District Court in the town today.
Garda Una Halligan told judge Paul Kelly that she responded to reports of a man "wielding a samurai sword" on November 18, 2012.
She found 40-year-old Sweeney outside a neighbour's home with the sword.
Garda Halligan said when she arrived at the scene a male came out of a house was verbally abusive to the people inside the neighbour's house.
The witness said she arrested Sweeney and he had called her a "f***ing w****"
Once at Letterkenny Garda Station, she said: "He hit me in the face with his head; I could see him coming out of the corner of my eye and he connected.
"My eyes began to swell up almost immediately. He continued to shout obscenities; I fell backwards towards the door.
"He looked down at me and he started laughing and said 'did you like that?'."
Judge Kelly asked the Garda about her injuries.
"I had to take a week off until the swelling went down a bit," said Garda Halligan.
The court heard Sweeney had 30 previous convictions including one for assaulting a Garda.
Defence solicitor Patsy Gallagher said Sweeney suffered from a number of issues and applied for probation reports.
Judge Kelly said the incident was "very serious".
He adjourned sentencing to await the results of the probation report.
Tags: