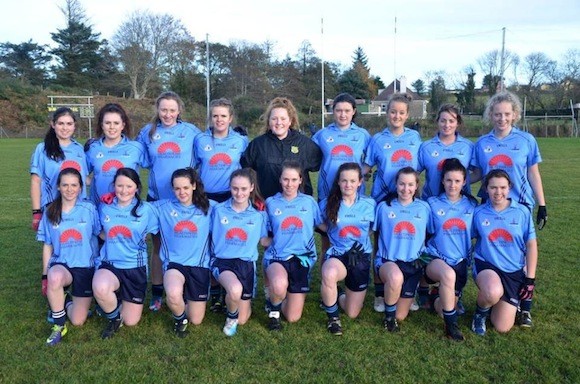 Moville minor ladies progressed to the semi final of the Ulster Ladies Minor Championship with an empathic win over Kinawley from Fermangh today on a scoreline of 7-11 to 1-02.
The game was played in brilliant sunshine in Malin due to Moville pitch being closed, started with both teams appearing both cautious and nervous. Moville opened the scoring on 4 mins with a pointed free from captain, Charmaine Mc Dermott. This appeared to settle the very youthful Moville side and when sister, Nicole Mc Dermott raised the green flag after 6 mins, followed by the second point from Sarah Jane Mc Donald, it looked already like there was always going to be one winner. Moville players worked hard all over the pitch closing the opposition down and forced turnover after turnover, many of which resulted in scores for the home team. Moville lead 3-06 to 0-02 at half time
The second half started with Moville again on the front foot resulting in an opening point straight from the throw up from Nicole Gordon following some great work by the midfield duo of Charmaine Mc Dermott and Blathnaid Mc Laughlin. From the resulting kick-out, the ball was won by Nicole Gordon who retuned the compliment by passing to the oncoming Mc Laughlin who blasted to the back of the net. Kinawley to their credit, never give up but they struggled to break down the resolute Moville defence who dominated the final third of the pitch. Moville pressed on and closed out the game on a scoreline of 7-11 to 1-02. Moville now play the winners of St Pauls (Belfast) and Sperrin Óg (Tyrone) on the 24th of this month at a time and venue TBC
Turning point- it came early in the game on 15 mins with Moville second goal, giving them a 9 point cushion and Kinawley a mountain to climb to get back in the game
Referee watch- a good game from Strabane man Sean O Kane, in the middle, albeit, he seemed to award , a few harsh frees against both teams but was consistent throughout, retired injured with 15 mins to go was replaced by 4th official.
Player of the match- a great all round team performance but both Rachael Mc Laughlin and Sinead Mc Guinness, deserve a mention both of whom worked tirelessly and unselfishly throughout.
Tags: