Donegal doll-maker Arklu are celebrating having scooped the prestigious Scholastic gold star toy award for 2013 in the USA.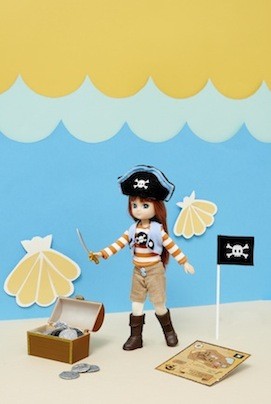 And to mark the occasion, they are offering five Donegal Daily readers the chance to win a Pirate Queen Doll and Pirate Queen Accessory Set.
The set will be the perfect Christmas present for children across the county.
And the competition is absolutely free with no expensive phone or text lines to bother about.
All you have to do to be in with a chance of winning simple email the name of your favourite Lottie doll to www.competition@lottie.com
Remember to include your name, address and telephone number so you can be contacted.
The full range of Lottie dolls are on sale in Mc Elhinneys store in Ballybofey, retailing at €19.99; accessory sets and outfits at €9.99.
The editorial team at Scholastic Parent & Child reviewed thousands of products and sent finalist products out to readers to test at home with their children.
The winning toys were selected based on the following criteria: innovative and cool; magnetic and engaging for the child; mind-expanding or educational; and an excellent value to the consumer.
"We want to congratulate all of the winners of Scholastic Parent & Child magazine's first-ever Gold Star Toy Awards," said Jamie Engel, Publisher of Scholastic Parent & Child. "It can be difficult to stand out among so many toys on the market, but our editors and readers selected the best gifts that offer learning and fun at a great value."
About Scholastic Parent & Child®
Scholastic Parent & Child is today's leading parenting magazine for families with school aged children, reaching more than 7.3 million parents. Parent & Child covers families with children ages birth to 12, and one hundred percent of the editorial content is dedicated to helping parents guide their children through the early school years with joy and confidence, informing parents on topics that serve the entire family, including child development, well-being, health, activities, travel, fashion, and food.
About Arklu's Lottie dolls
Since her launch in August 2012, Lottie dolls have become something of a global phenomenon securing the approval of industry experts (winning 17 awards in the US, UK and Canada including 3 prestigious Oppenheim Portfolio Platinum Awards ), child development experts, international press coverage and most importantly, positive feedback from the parents and children who love Lottie.
Tags: