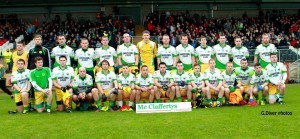 Refresh
It's all over. Glenswilly's dream of an Ulster title has just fallen short.
Congratulations to Ballinderry and best wishes to them for the All-Ireland semi-final.
3 minutes injury time.
Ballinderry add another point. It's 1-13 to 2-06. Four points ahead. Last minute. Glenswilly need a goal and a point, just to level.
6 minutes left: Darren Conway, the Ballinderry sub with a good score. 3 in it again. Glenswilly need another Murphy goal….
8 Minutes left: Michael Murphy scores again. Just two points behind now. 1-11 to Ballinderry; 2-06 to Glenswilly. Lovely finish from out on the right by Murphy.
Keeper O'Donnell pulls off magnificent save to keep Glenswilly in this game. Conor Nevin can't believe he has missed
Ballinderry 1-11, Glenswilly 2-05. Derry men lead by three points. A lot of tired legs out there. 12 minutes left. Daniel McKinless and Aaron Devlin with the points.
15 minutes gone in second half – Enda Muldoon, the Derry legend, on for Ballinderry.
Another chance for Copper, but ball goes wide.
Ballinderry go back into the lead. They work the ball from defence..and Collie Devlin scores again for Ballinderry. It's 1-09 to 2-05.
Gary McFadden with a shot….and it is saved on the line. 10 minutes gone in second half.
Ballinderry square the match. It's a battle out there at Healy Park today.
GLENSWILLY back in the lead. Ciaran Bonner point: 2-05 to 1-07. Neil Gallagher with superb block and led to point.
GOAL for Glenswilly. Followed by a point. 1-02 already in the second half.Match Square. 2-04 to 1-07. Caolan Kelly with the goal, set up by Murphy, followed by a superb point from the Donegal captain himself.
Second half: a point each. 1-07 to 1-03.
Both sides miss opportunities; Ciaran Bonner miss. But Dermot McGuckin scores at the other end.
HALF-TIME 1-06 to 1-02.
3 mins injury time at the end of first half
29th minute – pushing and shoving out there….no need for this.
27th minute GOAL for Ballinderry. McIvor fists to the net. Glenswilly protest but goal stands. It's Ballinderry 1-05 to 1-02.
25th Minute: Conleth Gilligan levels the game from another free. All square: Glenswilly 1-02, Ballinderry 0-05.
24th Minute: Back to a point. It's 1-02 for Glenswilly and 4 points to Ballinderry after a converted free for Derry champs.
22nd minute Caolan Kelly scores a great point for Glenswilly after pass from Murphy. 2 in it again
20th minute: Dermot McGuckin points for Balinderry. 1 point in it. Getting tight.
Ballinderry being forced to shoot from distance and after several missed chances, the Derry champions get another point. Score Glenswilly 1-01, Ballinderry 0-02. James Conway with a good score.
Murphy booked. Looked as though the Co Derry player was playing for that.
Glenswilly putting in a huge effort to keep Ballinderry out.
15th Minute: Murphy goes close…but it's wide again
Glenswilly playing well, closing down the Derry champions at every opportunity.
12th minute: Murphy puts free wide.
10th minute – Ballinderry get their first score, to reduce the deficit to three. Colly with the score.
7th Minute – Murphy again, this time with a point. Donegal men 4 points ahead.
FIRST minute goal for Glenswilly. MICHAEL MURPHY!!! Get in.
Donegal champions lead 1-00 to no score.