A judge has declared a Co Donegal man dead after an application by his family in court.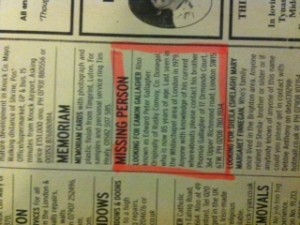 Eamon Gallagher, who would be 87 on Christmas Eve if he was still alive, was from Roosky, Convoy.
He was last seen alive in White Chapel, east London, in 1979.
Mr Gallagher left Co Donegal in 1952 to work as a labourer on building sites in London.
There had been just one other confirmed sighting of him – in 1962 – in south London by another man from Donegal who recognised him.
When he was last seen in 1979 he was carrying a bottle of wine.
His younger brother Charles, who lives in Putney in London, brought an application to have Eamon declared dead before Donegal Circuit Court.
The application was supported by the only other surviving member of the family, May, who still lives in Roosky and who is now 90.
Six other siblings are all deceased.
Their barrister Desmond Murphy was also granted an application to have more than 18 hectares transferred to the name of Charles Gallagher.
"They have exhausted every route," said Mr Murphy.
"It appears their brother has disappeared completely off the radar."
Searches conducted by Britain's health and social welfare services had failed to locate Eamon Gallagher, he said.
The Salvation Army's specialist unit and the Irish ex-pat organisation Aishling had also failed to find him.
Adverts in Irish newspapers in London hadn't received any responses.
Mr Murphy said his elderly clients wanted to settle their own affairs and wanted the land transferred to Charles Gallagher so that this could be done.
Judge John O'Hagan granted the applications, saying the case was "very sad when people leave their home country and disappear without trace."
Tags: