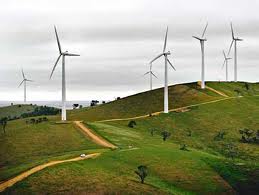 The Government's draft revised wind energy guidelines have left communities living beside wind farms devastated and disillusioned with the political process, campaigners claim.
Mike de Jong, a representative from CREWE (Communities for Responsible Engagement with Wind Energy) said that many groups around the country have lobbied politicians from all parties asking for them to legislate to protect families from the noise, visual pollution and property devaluation associated with living besides wind farms.
The Government's response has been to review the national guidelines for wind energy.
CREWE has been hopeful that government politicians would listen to the concerns of thousands of people and insist that wind turbines have a setback distance from family homes of ten times the height of a wind turbine.
There is no setback distance in Donegal at all.
"In the assessment of CREWE the draft guidelines published yesterday include only a token nod to the concerns of rural communities," said Mr de Jong.
"Instead of a setback distance of ten times a turbine's height, the government is keeping the same setback distance that has always been in place, which is 500 metres. This is in spite of wind turbines increasing in height to over 180 metres.
"What is most disingenuous about the Revised Wind Energy Guidelines is that they purport to take account of the World Health Organisation recommended noise limit of 40dB. When you look at the noise measurement criteria they are proposing, however, it is clear that setting the new limits at LA90 (10min) will allow wind farms to remain 2dB over the equivalent WHO noise limit.
"CREWE believes that it is plainly obvious that this government, like the last government which nearly destroyed our country economically, is more interested in protecting the profits of developers who are now investing in wind farms, than the thousands of people who will be forced to experience low frequency noise and the visual disturbance from wind turbines."
The spokesperson said that many people would be very angry at the government's draft guidelines. The failure to appropriately respond to people's concerns will mean that the hope of rural communities embracing wind energy is now further diminished, he said.
Colm McCarthy, the economist whom the government relied on to steer a path through the financial crisis, has also called on the government to prove that wind energy is cost effective.
"CREWE is very concerned that the government has been ignoring the important economic issues that Mr. McCarthy has been raising," said Mr de Jong
"Mr. McCarthy notes that Irish pre-tax electricity costs are more expensive than France, Germany and the United Kingdom. He makes it clear that the headlong rush into wind energy is one of the reasons for these high costs. He points out that wind energy requires expensive, visually obtrusive transmission lines, as well as a range of subsidies. Mr. McCarthy believes that the cost of these go directly onto our electricity bills."
The spokesperson for CREWE said that without its economic credentials, wind energy becomes a windfall for a handful of developers, but in doing so, turns large tracts of Ireland into an industrial landscape. Mr. de Jong said that we need to learn from the disastrous rush into unnecessary housing development during the Celtic Tiger years, and avoid an economic illusion dressed in seductive 'green' clothing.
Tags: