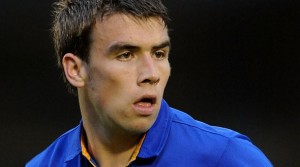 DONEGAL native Seamus Coleman scored a stunning goal for his side Everton in the English Premier League today to send his team into the top four.
The Killybegs man fired in a 65th wonder goal from 25 yards to give the Merseysiders the lead at Swansea.
The Welsh side equalised but Ross Barkley hit a great free kick four minutes from time to give Everton all three points.
Ian Holloway, who took Coleman to Blackpool on loan from Everton in the Donegal man's first season in England, described the defender as one of the best in Europe.
"I think he's got every potential to play for some of the biggest clubs in Europe, but I believe Everton will go there," said Holloway.
"With Roberto Martinez in charge, I think he's exactly what he needs.
"He'll love how the manager plays the game, he'll learn from him and he's only getting better and better.
"There's not many better full-backs in any other country."
Holloway said Coleman's Irish upbringing made him a special player who stands out from the crowd.
"When someone gets in a team and does so well, and keeps progressing, there's normally a dip somewhere, where they go backwards. He just hasn't had that.
"Is that just ability? I don't think so. It's him as a person too.
"You need all the details; hard-working, a good upbringing; he's got all that and a bit more.
"I've seen it in lots of players in my career, but his spirit was infectious and he never once moaned. He appreciates life. Some of the players are spoiled, but he just wants to win. He's one of the best players you could hope to get."
Tags: