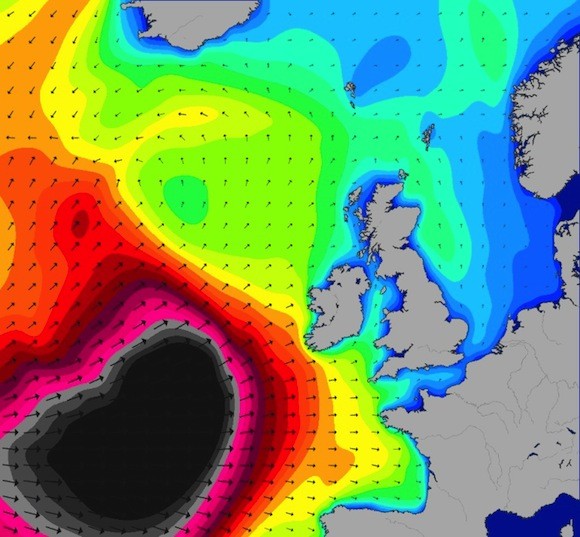 FORECASTERS are warning of another monster storm for Donegal on Sunday and Monday….and this is it's approach from 9pm on Sunday evening.
Surging high tides and strong winds will threaten coastal communities once again.
The black areas have waves of 48-ft or higher in the map produced by magic seaweed.com, a surfer's website which monitors wave patterns across the globe.
Met Eireann has already issued a Yellow Alert for Sunday, saying a new alert will be issued later for Monday which could be an Orange or more dangerous Red alert.
"It will be windy again on Sunday morning with strong and blustery southeast winds veering southwest, mean speeds of 50 to 65km/hr and occasional gusts of 90 to 110km/hr especially in coastal areas," said forecaster Pat Clarke.
"There will be a spell of heavy rain also, with further very high tides and high seas and the continuing danger of coastal flooding.
"Further severe winds are expected later on Sunday night and Monday and we issue warning updates later."
Yellow Alert
Issued:Saturday 04 January 2014 16:00
Valid:Sunday 05 January 2014 08:00 to Sunday 05 January 2014 18:00
Tags: