BUNCRANA GAA NOTES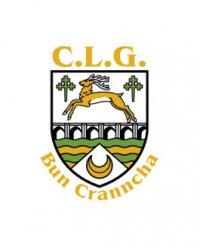 Congratulations to Clubman Darach O'Connor on his competitive debut for Donegal today. However, it was disappointment for Donegal in their opening Dr McKenna Cup match against Tyrone in Letterkenny on Sunday. They delivered a good performance in awful conditions. Darach earned a penalty in the first half that the Tyrone keeper saved from Michael Murphy. The miss proved costly in the end as Tyrone were just that bit stronger and adapted best to conditions on the day. On a good note though there will be much better days ahead for this Donegal team and young Darach. Well done too to the Malin lads today.
U6 Training Buncrana GAA will begin Under 6 Fundamental training for 2014 on Friday, the 10th January 2014 at 6.30pm at the Gym, Crana College, Buncrana.
The training emphasises fun to enable children Under 6 to learn skills to participate in all GAA games and all children born in the years 2008 and 2009 are welcome. If you have any queries, please contact Jim at 087-9933420.
U14 Football / Hurling Fitness training will begin Monday 6th and Thursday 9th at 6.30 sharp at Scarvey. Everyone Welcome
Child Protection Training A date has been confirmed for Child Protection training as a stand- alone course next Friday 10/01/14 in the clubhouse from 7-10pm. This is to facilitate those who need an update in child protection, and/or coaches and parents who help out with coaching. All managers and senior executive board members should forward names of people that this date suits to Aine Daly, Childrens Officer.
2013 was a great year for the Club. Well done to all our teams and players, in whatever Code, whether male and female, and at whatever age level, who played for the club, those who won competitions and those who didn't, members who gave of their time, energy, expertise and money, anyone who in any way helped make 2013 a great year. Here's to your continued support and efforts to make 2014 even better!
Athbhliain faoi mhaiose daoibh uilig
On a sadder note, the club would like to remember those we lost during the year, whether members or family of members, and particularly long-standing servant Eamonn McMenamin.
Ar dheis De go raibh a n-anamnacha uilig
Congratulations to Paul McLaughlin who was the winner of the Christmas Hamper draw held during Santa's visit to the Scarvey on Saturday 21st December. Thanks to everyone who helped make it a great day for the kids and a tribute to the Club.
Photos from Santa's visit to the Scarvey can be collected from Adam Porter at Pixicam.
Dance Off DVD's now available for €10 each. Contact Hugh Quirke 086 0626477 or Pauline Grant 086 0812429 to get your copy now!
Club Notes: Anyone who would like to receive a copy of the weekly club notes should email Jim at buncrana.pro@gmail.com to be included on the mailing list. If you have any items which you think should be included in the club's weekly notes, please email Jim at buncrana.pro@gmail.com by 6pm on each Sunday for consideration. To keep up to date with all the latest goings-on, please join us on www.facebook.com/buncranagaa or www.twitter.com/buncranagaa @buncranagaa, or visit our website www.buncranagaa.com.
Tags: