Eircom has launched an investigation after hundreds of phonebooks were dumped at one of Donegal's most scenic locations.
Walkers came across several hundred of the books at Barnesmore Gap between Ballybofey and Donegal Town.
The find comes following complaints by locals that they had not received their phone books in the area recently.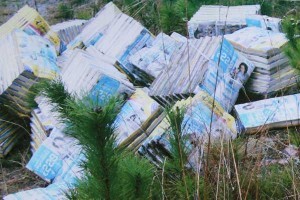 A walker who came across the books said she was shocked by what she had found.
"They were all still in their wrappers and someone had gone out of their way to get rid of them.
"It was just terrible to see them just dumped there – hundreds of them.
"What kind of a message is that sending out that a company as big as Eircom have had their property scattered all about the countryside," she said.
The incident was reported to Eircom earlier this week and the books have since been taken from the site.
Tags: