The RNLI is the charity that saves lives at sea off the coast of Co Donegal and all around out coastline.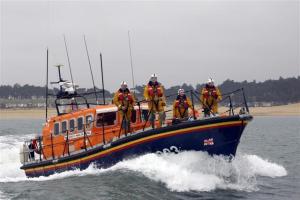 And it relies totally on the generosity of the public and through fundraising activities.
Thankfully there have been no serious incidents locally, but throughout Ireland crews have been out and about braving the elements, putting their own lives in danger, all to help others!
31st January is traditionally known as SOS day throughout Ireland and the UK.
A day when communities come together to support the work of the RNLI and raise funds by having an SOS day, be it sponsored events, Sausage Sizzles, Shaves, or anything beginning with an S.
This year in Donegal there will be a fundraising campaign to support SOS day on Sunday 26th at 3pm , when there will be 5k walks taking place all over the county.
These walks, to be known as a 'Stroll on Sunday', will take place in Downings, Rathmullan, Letterkenny, Malin, Burtonport, Buncrana and Aranmore, with perhaps more locations nearer the time.
This will be a family fun afternoon where no experience is needed, but only a willingness to participate and support a worthy charity, as well as parting with a few Euro to help a good cause.
Bring the children, bring the family and there will be refreshments served afterwards with all monies raised going towards the ongoing work of the RNLI.
There will be more details nearer the time, but if you'd like more information soon or would like to get involved contact Hazel @ 086 2804555 in the meantime.
That's SOS , Sunday 26th January at 3 pm at a location near you!
Tags: