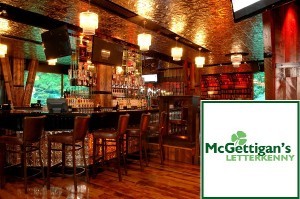 Finn Harps has announced that the McGettigan's group Ireland and UAE will be the club's main sponsor for 2014.
The Dubai based company, which was founded by former Donegal person of the year Jim McGettigan, will be Harps principal commercial partner during the club's 60th anniversary year.
The launch of the sponsorship agreement took place at McGettigan's Bar in the Clanree Hotel, Letterkenny on Monday evening, and was attended by an array of well-known Harps faces past and present, including legendary all-time scorer Brendan Bradley.
McGettigan's Pub was first opened in Ireland in the 1960's on Queen Street in Dublin by Jim McGettigan. Since that day, the business has grown from Dublin, moved to Dubai and last November expanded with the acquisition of the Clanree Hotel in Letterkenny.
Finn Harps acting chairman Sean Quinn said "Everyone at Finn Park is thrilled that a successful Donegal company like McGettigan's will be working with us during our diamond jubilee year.  They are a highly reputable company that have created a recognised international brand, and who continue to provide excellent employment opportunities for Irish people both at home and abroad.  On behalf of our committee, volunteers and supporters I would like to welcome the management and staff of McGettigan's for the coming season."
2010 saw the very first McGettigan's Irish Pub in Dubai open its doors at Jumeirah Lakes Towers.  Eighteen short months later, the McGettigan's story in Dubai expanded with the opening of both McGettigan's Irish Pubs at Dubai World Trade Centre and Dubai International Airport.
Unique décor, delicious Irish food & drink, the best Irish and international entertainment and sporting events are the ingredients that have made McGettigan's Irish Pubs such a success in the United Arab Emirates.
McGettigan's proudly wears the tagline "The Modern Irish Experience", as it reflects modern Irish food, culture, sports and music. The brand is steeped in Irish family history and is using this history and experience to bring a real flavour of Ireland to a global market.
Jim and Dennis McGettigan see opening in Letterkenny and becoming main sponsor of Finn Harps as extremely exciting developments for the brand.  CEO Dennis McGettigan said "Over the past 3 years we feel we have represented Ireland fantastically in Dubai, we have promoted Irish music, culture and cuisine to the global Ex-Pat community in Dubai. Moving back home and investing in the area where it all started for my father is an extremely proud moment for us as a family.  Jim is a proud Donegal man so this is always where his heart has been."
McGettigan's Pub in Letterkenny opened on 29th November 2013 at the Clanree Hotel, Derry Road, after the McGettigan's group took over the management of the hotel. McGettigan's Pub will continue the brands tradition of serving award winning food and entertaining guests with some of the best local bands performing every weekend.  McGettigan's have brought the modern Irish experience back on home soil and are looking forward to supporting Donegal's senior football club.
Tags: